The year 2022 brought great additions, features, and functionality to WordPress. It was a roller coaster journey, but the best part, every turn, incline brought never-seen-before changes and additions to WordPress in each sense.
Now without further wait, let's take a quick look at the major events, releases, and highlights that happened in and around WordPress in the year 2022!
Quarter 1: WordPress 5.9, Gutenberg releases, MoBa, and more..
The year started with a Bang 💥. The much-awaited release, WordPress version 5.9 Joséphine. It brought a major revolution with the introduction of Full-site editing, Block themes, and much more!
In February, we had the redesign of WordPress News, which was first announced by Matt Mullenweg, Co-Founder of WordPress, in State of the Word 2021, which went live on February 16, 2022.
Gutenberg releases
The Core Team launched three new versions of Gutenberg since last month's edition of the Month in WordPress.
Team updates: Proposals, announcements, and more for 2022
The Pattern Directory is open for public submissions
The WordPress Pattern Creator is live! This new tool allows anyone with a WordPress.org user account to build, edit and submit their best block patterns to the Pattern Directory.
If you've used patterns in WordPress, you'll know that they make it easy to add unique layouts to your website. These include galleries, testimonials, pricing tables, and more. Opening the directory to public submissions enables any WordPress user to enjoy a wider variety of patterns to use on their sites.
WordPress 6.0 Walkthrough scheduled for April 5, 2022
Few updates came to the WordPress 6.0 planning. There was a live and interactive WordPress 6.0 walkthrough hosted by contributors of the release squad.
The event took place via Zoom and included a discussion on the new features, potential blockers, and a Q&A session with the community.
Read to know in detail about the developments in WordPress in the months of January, February, and March.
Quarter 2: WordPress 6.0, Happy 19th Birthday WordPress, and more..
The past few months underwent in preparations for the next big release – WordPress 6.0. Scheduled for release on May 24th, 2022. This major release is full of exciting improvements, and there's a lot more waiting in store for you!
WordPress 6.0 Release Candidate 1 (April)
The first release candidate (RC1) for WordPress 6.0 is now available for download.
WordPress 6.0 packs all kinds of improvements for everyone. It brings new blocks, accessibility enhancements, refined design tools, the ability to switch theme styles easily, multi-block partial text selection, and a new block-locking interface, to name a few of its highlights.
Say hello to WordPress 6.0 "Arturo" (May)
WordPress 6.0 "Arturo" was released on May 24, 2022. Named in honor of the Latin jazz musician Arturo O'Farrill, the awaited release brings more customization tools and numerous updates to make the site-building experience more intuitive.
Check out the WordPress 6.0 video and the announcement post for an overview of the most important changes. Interested in knowing more about the features that will help you build with and extend WordPress? Then the WordPress 6.0 Field Guide might be for you.
Happy 19th birthday, WordPress! (May)
Time flies, doesn't it? Believe it or not, May 27 marked the 19th anniversary of WordPress' first release! To celebrate, the community put together a special site (wp19.day) where contributors shared thoughts, videos, live shows, and more.
You can still join the fun using the hashtag #WP19Day on social media, or even contribute photos of the swag you used to celebrate to the WordPress Photo Directory.
Gutenberg releases
Gutenberg 13.0 shipped on April 14, 2022, and introduced the final updates that will be part of WordPress 6.0. These include an improved editor experience (with the ability to select text across blocks), better responsive blocks, and prominently exposed block patterns.
Gutenberg 13.1 landed on April 27, 2022. This version adds border support to the Columns block and accessibility and Comment block improvements.
Gutenberg 13.2 shipped on May 11, 2022, and brings a new API to save editor preferences on the server, visual guides for padding and margins, and improvements to the Comment block.
Gutenberg 13.3 comes with a new Table of Contents block and a number of enhancements to existing blocks to provide more ways to display content, among other highlights. It was released on May 25, 2022.
Gutenberg 13.4 was released on June 8, 2022. It includes 25 enhancements and nearly 30 bug fixes. This version adds support for button elements in theme.json and introduces axial spacing in Gallery Block, among other new features.
Gutenberg 13.5 was released on June 22, 2022. It comes with an improved featured image UX, expanded design tools for the Post Navigation Link block, and solid accessibility fixes.
Team updates: Updated guidelines for in-person events, redesign of the Gutenberg page, and more
WordPress 6.1 Release
Planning for WordPress 6.1 kicked off in June with a proposed schedule and a call for contributors to the release team. This will be the third major release in 2022 and will include up to Gutenberg 14.1 for a total of 11 Gutenberg releases.
Matías Ventura published the preliminary roadmap for version 6.1. WordPress 6.1 is expected to refine the full site editing experience, introduced in the last two major releases. Stay tuned for a companion post with more details on what's to come.
You can also listen the episode of WP Briefing to hear WordPress Executive Director Josepha Haden talking about the planning for major releases and how you can get involved.
WordCamp Asia 2023 (June)
WordCamp Asia 2023, the first flagship WordCamp event in Asia, opened its Call for Sponsors.
WordCamp Europe 2022 was successfully held in Porto, Portugal, from June 2 to 4, 2022. The event saw 2,300 in-person attendees and a record 800 participants at Contributor Day. All the sessions will be available on WordPress.tv.
In 2023, WordCamp Europe will be hosted in the city of Athens, Greece.
Josepha Haden covered some important questions from WordCamp Europe on a special episode of WP Briefing. Be sure to give it a listen!
The #WPDiversity group has organized a free, online speaker workshop for Indian women in the WordPress community. The event took place on September 24-25, 2022.
Read to precisely know the developments in WordPress in the months of April, May, and June.
Quarter 3: TT3 theme, canonical plugins, revamped wp.org, and more..
WordPress saw major updates and overhauls throughout the year. Quarter 3 was a busy period, bringing exciting changes to the Gutenberg block editor. The announcement of the development cycle for WordPress version 6.1, the Homepage and Navigation menu revamp, the Twenty-Twenty Three theme kickoff, and more.
Development Cycle for WordPress version 6.1
This will be the third major release of 2022, following WordPress 5.9 (released January 21st, 2022) and 6.0 (released May 24th, 2022).
It aims to provide a new and elevated experience, just like we saw in 5.9 Josephine and 6.0 Arturo.
Some major tweaks expected by the community are the block theme filter, template editor, improvements to the block editor, and improvements for design and typography.
The Revamped Homepage and Download page are live now!
The most awaited WordPress Homepage and Download page are live after 33 days of project kick-off.
These updates were made after the WordPress.org News and Gutenberg Page, which gives an appealing look, a better-structured feeling, and a modern experience to the users. Also, enhancing the user experience and usability of the software.
The Admin bar and Navigation menu on the homepage received small enhancements.
The WordPress logo, About menu, site name, comments, and some top-level items were removed from the Admin bar, thus giving the Admin bar a simplified and elegant look and feel.
The Login & Register links present on the top right corner of the homepage are now visible on every page of wordpress.org.
The contents of the Navigation menu are now grouped, giving the website an organized look, and an intuitive experience. Here's how it looks: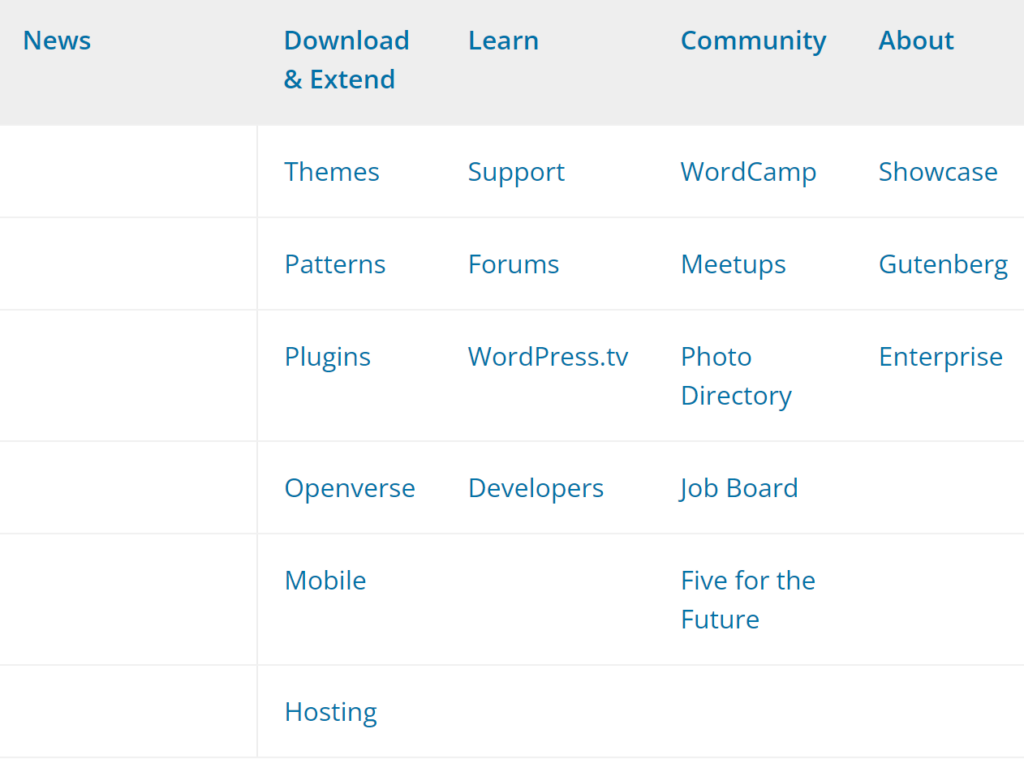 Gutenberg improvements
Localized Content on Learn WordPress
Learn WordPress is currently focusing on expanding the non-English resources on the website.
(Hajimemashite – warm greetings in Japanese!) Last month members of the Training team hosted a free online workshop in Japanese.
After its widespread success, two more sessions are set to be conducted on September 7th and 17th, 2022.
Learners now have access to Portuguese tutorials and Greek lesson plans.
WordPress 6.0.2 maintenance release
WordPress 6.0.2 was released on August 30, 2022. This was a short-cycle security and maintenance release.
It consists of major security fixes, core bug fixes, Gutenberg fixes, and much more. You can read about it in detail here.
Twenty Twenty-Three theme (TT3)
The Twenty Twenty-Three theme, which will be released along with WordPress 6.1 version, goes under development.
This theme will contain a diverse collection of style variants designed by the community members. Enabling you to create a website of your choice and design. According to sources, the final curated set of style variants will be selected on September 7, 2022 (Tentative).
The curated set of style variants was showcased to the public on September 7th, 2022.
The 10 style variations were picked from the 38 submissions received, from 19 contributors, from 8 different parts of the world. Kudos to every contributor 👏.
These styles will be shipped along with WordPress 6.1 as the default theme (November 1st, 2022).
WordPress drops security updates for version 3.7 to 4.0 ❗
Do you belong to the 0.51% of the people who run WordPress websites on 3.7/3.8/3.9/4.0? If your answer is yes, then you are on the verge of a security breach.
These versions of WordPress were released more than eight years ago. And there are only a few websites that run on these versions.
So the WordPress Security team decided to stop security updates for these versions (3.7, 3.8, 3.9, and 4.0) on December 1st, 2022.
By dropping the security updates for the older versions, the newer versions of WordPress will become more secure. You may wonder how? The security team will have more time to focus on identifying and releasing security patches for the newer versions.
So, if you're using an older version of WordPress, log in to your dashboard and update to the most recent version.
Major Updates: WordPress version 6.1
September saw two beta releases of WordPress 6.1
Beta 1 released on September 21st, 2022. The testers identified 24 new issues and updated them on GitHub.
Beta 2 released on September 27th, 2022. Click this link and follow the download instructions to test this version of WordPress.
WordPress 6.0 walk-through received an overwhelming response from the community, which has now led to the announcement of the WordPress 6.1 walk-through.
The walk-through event took place on September 13th, 2022, at 09:30 pm GMT.
New features, resolved tickets, potential blockers, and many other topics were discussed in this event.
This version of WordPress contains more than 350 enhancements and bug fixes for the editor, including more than 250 tickets for the WordPress 6.1 core.
You can watch the full product walk-through, which is available on WordPress.tv
The walk-through was packed with so many exciting features and announcements for end users as well as developers. Here are a few highlights:
Features for end users
The default theme is powered by 10 unique style variations (TT3)
More design tools in more blocks
Template experience and options refined
More intuitive document setting experience
New modal interfaces and preferences improvements
Easy menu management and automatic navigation block selection with fallbacks
Accessibility & Performance updates
Features for developers
Select appearance tools to enhance any theme
Style system updated
Add starter patterns to any post type
Content lock patterns for more curation options
Filter the theme.json data
Fluid typography allows for greater responsiveness
Ability to style elements inside blocks like buttons, headings, or captions in theme.json
WebP in Core & Canonical Plugins Revisited
Matt Mullenweg posted two posts on September 12th, 2022.
Post 1 titled "WebP in Core for 6.1"- Long story short, there were discussions on bringing a core feature to WordPress 6.1, where it automatically converts the JPEGs to WebP when uploaded. So Matt suggested that bringing this feature as a canonical plugin would be better as it provides more space to experiment and push functionality.
Post 2 titled "Canonical Plugins Revisited"- This was about expanding the WordPress plugin directory by introducing and developing more canonical plugins… He also listed a few canonical plugin ideas for each team present in the WordPress community.
Interested to know more about the post and Canonical plugins? Read here!
WordPress #WPDiversity
WPDiversity conducted a Speaker Workshop for Indian Women in the WordPress Community on September 24th and 25th. I believe this was a great initiative to bring out more speakers to the WordPress community. What do you think?
Just like the previous workshop, WPDiversity conducted another workshop on October 29th, 2022 (10:00 AM-06:00 PM CST) which took place in the Hilton La Sabana hotel in San Jose.
Openverse
Openverse 3.4.8 front-end was released on September 7th, 2022.
There's even more audio in Openverse now! Over 800,000 songs, samples, and other openly licensed audio files are available for use or remixing in any project.
Read to precisely know the developments in WordPress in the months of July, August, and September.
Quarter 4: WordPress 6.1, core improvements, State of the Word, and more..
WordPress 6.0.3 Security release OCT
WordPress 6.0.3 was released on October 17, 2022.
It was a short-cycle release with 16 security patch fixes.
Update immediately to avoid any kind of security breaches.
Learn more about the WordPress 6.0.3 Security release and the 16 security patch fixes.
More Releases OCT
WordPress 6.1 Beta 3 was released on October 4, 2022. Nearly 100 issues were resolved before the release of this version.
Release Candidate 1 (RC 1) was released on October 11, 2022. Approximately 100 items were addressed.
Release Candidate 2 (RC 2) was released on October 18, 2022. Approximately 65 items were addressed.
Release Candidate 3 (RC 3) was released on October 25, 2022. Approximately 60 items were addressed.
This brings the total count to more than 2000 updates, since WordPress 6.0 in May of 2022.
WordPress 6.1
WordPress 6.1 was released on November 1, 2022. There were so many things to uncover for end users as well as developers.
WordPress 6.1 unlocks a number of possibilities: play with giant, bold headlines or make subtle changes to your CTA buttons.
Adjust font and text properties, spacing, and line height directly from the block editor.
Switch the orientation, justification, and more, to design down to the very last detail of your header, gallery, or other container blocks.
Core editor improvements
Block editing gets more flexible and intuitive with the addition of more design tools to WordPress 6.1.
It comes with tools like Typography Block Support, Dimension and Spacing Block Support, Colors Block Support, Layout Block Support, and Border Block Support.
These design tools are going to be a great help to increase the user experience without the need to use CSS. Also, remember that these tools can be used to create great designs when combined together.
Gutenberg updates
Openverse
In the September Roundup, we saw that Openverse was celebrated for indexing more than 800,000 audio files.
Audio support is available for beta from October 20, 2022.
In November, Statens Museum for Kunst's (National Gallery of Denmark) collection data was added to WordPress.
You can use the artworks which were created almost 700 years ago on your site.
In December, Openverse passed a critical milestone by including over 1,000,000 Creative Commons licensed audio files in their collection of GPL-compatible media.
There were around ten thousand files roughly when they launched audio files support in Openverse.
The abundant growth is a testament to the contributors, partners, and audio sources.
WPPhotos
This is for the shutterbugs out there to showcase your captured moments to a broader audience. You can help grow the WordPress Photo Directory collection by sharing your own images with the WordPress photo repository.
November marked a great month as WP Photos reached a milestone of 5000 CC0-licensed photos.
Kudos 🍻 to the whole community, especially the 689 contributors.
Twenty Twenty-Three Theme (TT3)
Say hello to the Twenty Twenty-Three theme. This new default theme offers a clean, blank canvas bundled with a collection of style variations.
Need some fresh inspiration for your templates? Check out the below examples of custom Category templates from Brian Gardner. This shows how many style variations and template customization in Twenty Twenty-Three themes can impact the look and feel of your site.
Developer Blog
WordPress Developer blog goes in a public beta. This was introduced because the Make Core blog mostly contains meeting notes for the various core teams, rather than highlighting new features.
This makes it difficult for spectators and occasional contributors (in developing) to find relevant information among the team-related posts.
So, the developer blog was introduced to focus on updates for developers, extenders creating plugins and themes, and those who work with WordPress at an agency or as freelancers.
Anyone who wants to contribute can post to the Ideas board for discussion.
People can contribute by posting ideas, writing posts, or joining the editorial team that reviews the posts.
Grow your story WP
WordPress has enabled thousands of people to pursue their passions. Like creating a hobby blog and building up a small business, to powering e-commerce stores and large enterprise sites.
The Grow Your Story initiative, lets people explore the endless possibilities of ways people have published using the platform.
Whether it's building a site or contributing to the open-source project itself – every story is unique, remarkable, and meaningful.
So, share your WordPress experience with the masses by filling out this form.
State of the Word 2022 Highlights
The State of the Word 2022 took place on December 15, 2022. Most of the attendees joined the event via live stream and watch parties held across different countries.
Josepha Haden Chomphosy, the executive director, gave the event's opening remarks and mentioned the Four Freedoms of open source as the reason why so many people chose WordPress.
The event's quick stats showed how amazing the WordPress community was this year. 1399 unique count of contributors to releases in 2022.
WordPress co-founder also took the opportunity to remind everyone of the 2023 community summit and the 20th anniversary of WordPress coming up next year.
After the State of the Word, you may have noticed that the themes and plugins were separated into various categories like Community plugins (The plugin which is developed and supported by the community) and Commercial Plugins (The plugins which offer additional paid upgrades and support). This helps users to better find plugins or themes that fit their needs.
The plans for Phase 3 of Gutenberg (The collaboration phase) were also discussed during the event.
Missed the event? Watch the State of the Word 2022 recording on WordPress.tv.
Read to precisely know the developments in WordPress in the months of October, November, and December.
Conclusion
And it's a wrap for this year, let us know what are your thoughts about the developments in and around WordPress in the year 2022. And of course, do let us know what do you think the year 2023 will hold for us!
What a great year it has been for WordPress, now be prepared for it is just the beginning. Till then subscribe to our newsletter to receive All-Thing Everything WordPress.
Take care, have a great year ahead, loads of wishes, and see you around!