Hello, People of WordPress, I have exciting news and updates for you in this August 2022 roundup!
The month of August in WordPress brought small tweaks to the homepage, two new versions of Gutenberg, WordPress 6.0.2 security and maintenance update release, and much more.
In the WordPress July roundup, we got 6.1 release cycle updates, Gutenberg 13.9 improvements, design changes, and much more.
WordPress 6.1 walk-through
WordPress 6.0 walk-through received a overwhelming response from the community, which has now led to the announcement of WordPress 6.1 walk-through.
Grab your popcorn bucket 🍿, the walk-through event will take place on September 13th, 2022, at 09:30 pm GMT.
The walk-through will take place via Zoom and is open to general public (anyone, from any part of the world can join 🌎).
New features, resolved tickets, potential blocker, and many other topics will be discussed in this event.
Can't attend the live walk-through? Don't worry recorded version of the walk-through will be available for on-demand viewing.
Homepage – Admin bar and Navigation menu updates
The Admin bar and Navigation menu on the homepage received small enhancements.
The WordPress logo, About menu, site name, comments, and some top-level items were removed from the Admin bar, thus giving the Admin bar a simplified and elegant look and feel.
The Login & Register links present on the top right corner of the homepage are now visible on every page of wordpress.org.
The contents of the Navigation menu are now grouped, giving the website an organized look, and an intuitive experience. Here's how it looks: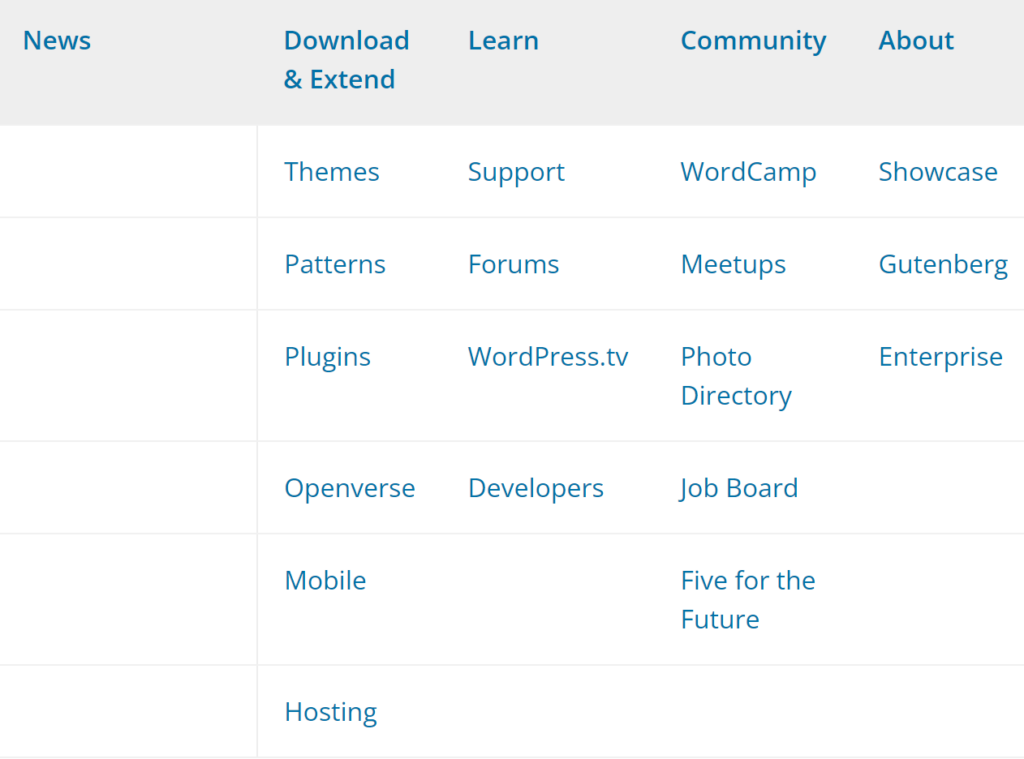 Gutenberg 13.9 and 14.0 is here!
This August roundup of WordPress definitely covers two new versions of Gutenberg that surfaced in the month of August.
Gutenberg 13.9 released on August 17th, 2022. This version iterates and polishes the user interface (UI), interaction, and engine work for site editing.
Gutenberg 14.0 released on August 31st, 2022. This version brings the user enhanced list blocks, axial gap control to styles, pseudo-elements support to button elements, and much more.
Localized Content on Learn WordPress
Learn WordPress is currently focusing on expanding the non-English resources on the website.
(Hajimemashite – warm greetings in Japanese!) Last month members of the Training team hosted a free online workshop in Japanese.
After its widespread success, two more sessions are set to be conducted on September 7th and 17th, 2022.
Learners now have access to Portuguese tutorials and Greek lesson plans.
WordPress 6.0.2 maintenance release
WordPress 6.0.2 released on August 30, 2022. This was a short-cycle security and maintenance release.
It consists of major security fixes, core bug fixes, Gutenberg fixes, and much more. You can read about it in detail here.
Twenty Twenty-Three theme kick-off (TT3)
The Twenty Twenty-Three theme, which will be releasing along with WordPress 6.1 version, is under development.
This theme will contain a diverse collection of style variants designed by the community members. Enabling you to create a website of your choice and design. According to sources, the final curated set of style variants are to be selected on September 7, 2022 (Tentative).
WordCamp 2022 updates
WordCamp Jinja, Kathmandu, and US are all set to kick off for the first half of this month (i.e September).
Diverse speaker sessions, web design workshops, teacher workshops, and much more interesting events are going to take place in WordCamp.
Openverse, a repository for CC0 (Creative Commons) licensed images, videos, audio, etc. is also participating in WordCamp US which is going to take place on September 11th, 2022.
WordPress August Roundup – Parting Notes
What are your thoughts on the August roundup of WordPress?
Feel free to post your opinions, thoughts, and comments. You can also send your questions/insights/ideas via an electronic letter 📧 at [email protected]
Also, subscribe 🔔 to our newsletter to get the latest information directly to your inbox.
Until next time, Sayonara (goodbye in Japanese)!