The next big release of 2022 is here! Behold for WordPress 6.0 "Arturo". Taking its name after the Grammy-winning jazz musician, Arturo O'Farrill. Arturo's musical world spanned around different genres, like Afro Cuban jazz, with a major influence on contemporary Latin jazz, and much more.
Arturo has released more than 15 albums over 5 decades. Thus, with a new face to WordPress, a new musical journey awaits! Check out his work, and the finely tuned tunes.
Now, back to WordPress 6.0. The next big bomb in 2022 is here with nearly 1,000 enhancements, new features, and bug fixes. From the top view, there are 97 enhancements and feature requests, 131 bug fixes and 13 Gutenberg bug fixes, and 23 other blessed tasks, which brings us to 251 Trac tickets in total.
Content creation gets simplified with text selection across blocks, shortcuts to recent posts, and more.
Gets more creative with WordPress 6.0's major overhauls. Engage in a more streamlined content creation process, whether it's a brand new post or adding elements to an existing page.
Make use of the features listed below:
Earlier selecting text across blocks wasn't possible, as you would end up selecting both the blocks (can be more). Things have changed, now you can select text across multiple blocks for a more intuitive experience.
Enjoy new accessibility features like type two open brackets `[[` to access a list of recent posts and pages.
Get to keep styles when you transform blocks of one kind to another. Eg. paragraph to code block, etc.
You can now make customized buttons, and any new buttons you create will retail the same style customization automatically. Cool, right?
Enhance the appeal of making tag clouds and social icons with updated settings, controls, and a new outline style for the tag cloud.
Template options get vast with featured image on cover block, template sizing controls, etc.
WordPress 6.0 now comes packed with five new template options for block themes. These templates are author, date, categories, tag, and taxonomy. Now, you can leverage a more immersive and enhanced flexibility, especially for content creators. Gain more control and handcraft your template with new options:
Use featured images in the cover block.
Get the perfect featured image with new sizing controls.
Editing a template becomes more intuitive with the quick inserter. It shows you patterns and template parts to help you work faster and discover new layout options.
The query block now supports filtering on multiple authors, support custom taxonomies, and support for customizing what is shown when there are no results.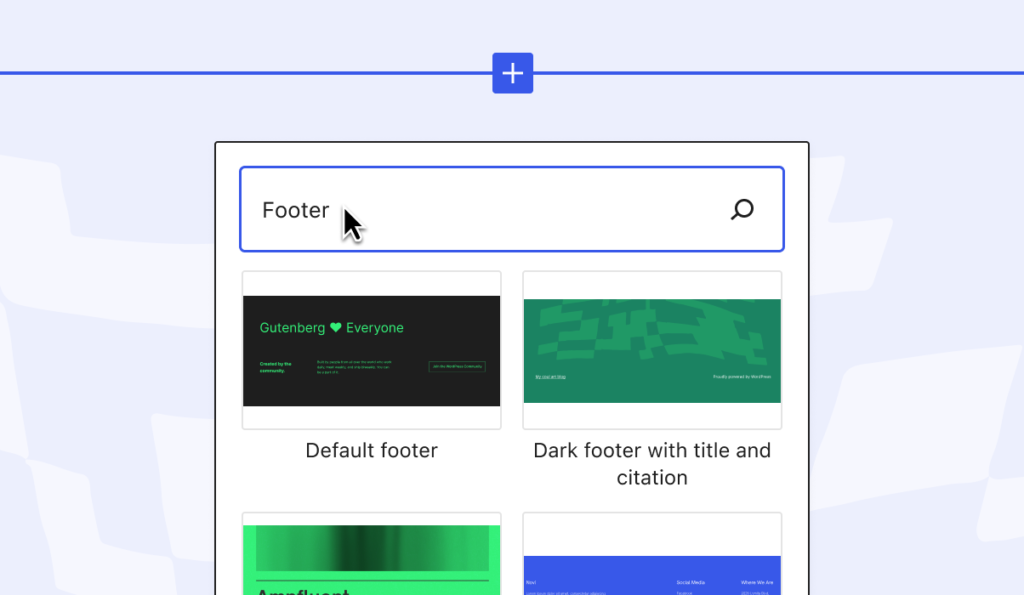 Get Integrated Patterns
Now use WordPress patterns in even more places. Have them up and available in the quick inserter or when creating a new header/footer. And if you're a clock theme creator, you can register patterns from the Pattern Directory using `theme.json`. Get to speed with your building process and prioritize specific patterns that are quintessential to your theme's users.
Unlock designing with new color panel, gap control, margins, and more.
The designing tools also have been subjected to a complete makeover. Some of these new additions are:
See your options at a glance, and save a lot of space with a whole new color panel design.
For design enthusiasts, borders are important. And now you have it! Utilize the new border controls to set your design as you want it.
Get creative with your design, use the transparency levels for your colors.
The group block now enables you to command the control gaps, margins, typography, and more on a collection of blocks, all at once!
Achieve a flexible layout with easier switching between the stack, row, and group variations.
Gallery block gets more artistic with gap support functionality. Create different looks– add space between images, or remove it to create a piece of art altogether.
Major performance updates
Arturo has many performance-enhancing kits packed in it. This takes the performance of WordPress a notch higher!
These enhancements cover a lot of ground, making WordPress more seamless than ever. Some of the performance areas that received a major update are page and post-load speed, reducing the execution time of various query types, caching navigation menus, and much more.
The group behind this is the performance team which is an important part of the core development team. For more information, and the latest on WordPress performance, follow #performance.
Accessibility as the top priority
WordPress has always been inclined towards supporting all the users spread across the globe. To achieve this mission, and foster a feeling of oneness and inclusivity, Accessibility becomes an integral part of WordPress.
With this in mind, WordPress 6.0 houses more than 50 updates specifically focused on enhancing the accessibility of the platform!
For continuous improvements, join get involved. There's plenty of important work to be done including testing, giving accessibility feedback, and creating PRs to address feedback.
General improvements in WordPress 6.0
Some improvements didn't improve a single area but they affect the overall WordPress experience. These changes connect to make big changes in the WordPress experience, here's a detailed list of all the improvements done. Let's get to know what they are:
Post Title as the Featured Image's alt text when linked to the post
Allow tabbing into block placeholders
Search results to be announced
RichText: Reverse disable line breaks to determine the aria-multiline state
Ensure blocks with a placeholder setup have their description read by VoiceOver
Feature to remove the role attributes on SVGs meant for decoration
Block Inserter Search focuses to have better implementation methods
Improving notification for draft save for readers. Making it more descriptive
Site editor to get button text labels
Focus can not enter, when on the last block
Check link color contrast for the new color panel
Conditionally set secondary sidebar landmark region labels
Use the block display title in the removed label for the block settings menu. This will make it clear as to what is being removed
Avoid duplicating labels for the "Save Draft" and "Save as pending" buttons. Reduce unwanted confusion.
Plugins: Add focus style to plugin icon link in plugin cards
Taxonomy: Show error message for terms without a name. and Improves the accessibility by avoiding the use of color alone to indicate an error
Comments: Disable "close on escape" for inline replies when using an IME
Toolbar: Don't hide admin bar text labels from screen readers on small screens
React 18: Fix focus loss happening when installing blocks from the directory
Fix focus loss when navigating the guide component
Fix focus loss when creating pages from link control search results
List View Improvements in WordPress 6.0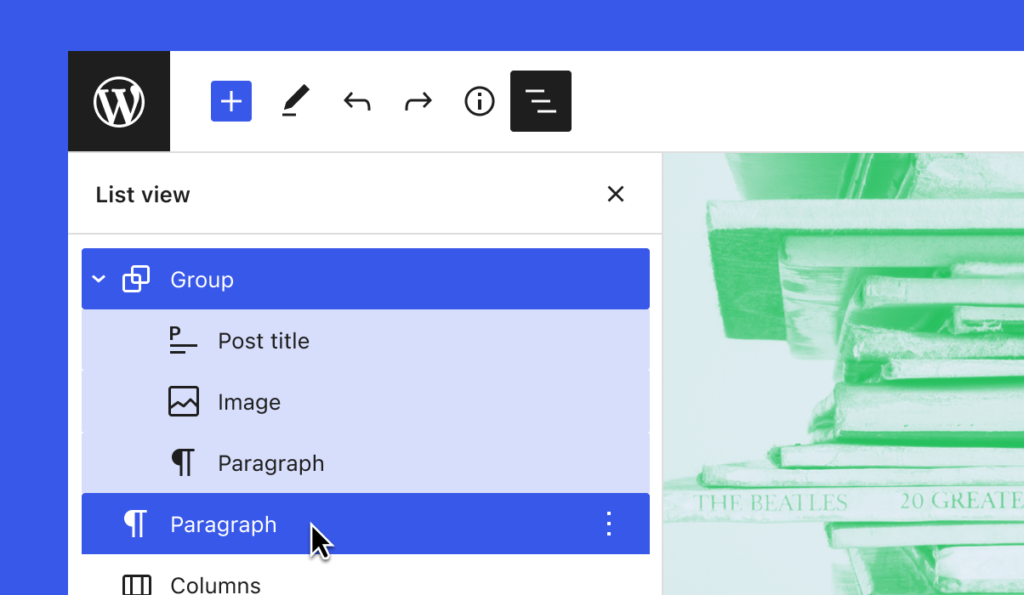 List view is one of the most important tools, especially since the advent of block editor and full-site editing. It allows you to navigate between complex blocks and content and gives you a lot of freedom and flexibility while creating content and building website(s). This release also holds major work done on the list view, let's get to know what:
Now multi-select support for shift + Home and End keys. Choose blocks at your command and with ease
Prevent focus loss after removing a block from ListView
Indicate locked status in block label including with aria labels
Add block names to the Options button, and unified labels, and improve focus when using Escape and the Close button
Improved keyboard controls and announcements when navigating in ListView
TreeGrid accessibility: Add Home/End keys to jump to the start/end of the grid
Improve browser support for Left Arrow focus to a parent row in a child row
Fix keyboard navigation for expanding/collapsing table rows in Firefox
Media
The media received many updates, to add to the accessibility and usability of WordPress. These features allow users to have a more clutter-free experience and provide them with more flexible options. The changes are mentioned below:
Preserve attachment properties on cropping custom logo. Alternative text, title, description, and caption of an image will migrate over to the cropped copy of the image after cropping
Stop arrow keys switching media if URL focused
Add a "Copy URL to clipboard" function to the list table view
Set break-word on sample permalink so the full permalink will be visible on mobile devices in posts, media, and comments
Remove target blank attribute from media uploader edit links
Remove target="_blank" from the link to change permalink structures and change link text to clarify the link purpose
Quick/Bulk Edit
Fix initial focus and keyboard operability
Position action buttons nearby
Login and Registration
Set valid autocomplete attributes for registration and login fields for username, email, and current password
Assign appropriate autocomplete values for new and edited users, user email, and password fields
Remove aria-expanded from the "Generate Password" button since the button itself does not expand or collapse anything
Themes
2019: Override flex order in the comment form
2020: Transform search into a dialog role and fix the handling of aria-expanded to synchronize mobile and desktop buttons
2021: Reverse logic for prefers-reduced-motion media query
Use the pointer cursor when hovering over the theme details button for consistency with the theme card
Correct the logic for displaying a _doing_it_wrong() notice for add_theme_support( 'html5' )
Calling add_theme_support( 'html5' ) without passing an array of supported types should throw a _doing_it_wrong() notice: "You need to pass an array of types".
If the second parameter is not specified, it should fall back to an array of comment-list, comment-form, and search-form for backward compatibility.
If the second parameter is not an array, the function should return false.
For more info, #51657.
More changes in External libraries, Media, Plugins, Post-types, and more!
More than 131 bugs, 97 enhancements, feature requests, and 23 blessed tasks have been marked as fixed in WordPress 6.0. You can find the full list of tickets on Trac.
Here are a few that haven't been highlighted:
Administration: Add a media_date_column_time filter to the media list table date column. Similar to the existing post_date_column_time filter in the posts list table, this change adds a new hook to filter the "Date" column output in the media list view. (#42942)
Bundled Theme: If you've been having problems with the order of elements in comment form in the Twenty Nineteen theme, there's good news for you in #46600. It's fixed!
Canonical: Function redirect_guess_404_permalink() includes all public statuses, rather than just publish, in 404 redirects in its search. (#47911)
Comments: Speeding up Dashboard and Comment moderation SQL load – (#19901)
Emoji: Update the Twemoji to version 14.0.2. This version introduces support for the latest Emoji added in Emoji 14. (#55395)
External Libraries:
Update Jcrop to version 0.9.15. For a full list of changes, see https://github.com/tapmodo/Jcrop/compare/v0.9.12…v0.9.15. (#54035)
Update jQuery Color to 2.2.0. Removed the bundled version (which still existed within the core), in favor of expanding the Grunt build steps to include the package from NPM instead. (#55016)
Update random_compat to version 2.0.21. The latest release includes improved compatibility with PHP 8.1, as well as some bug fixes for Windows platforms. Release notes: https://github.com/paragonie/random_compat/releases/tag/v2.0.21 (#55181)
Upgrade PHPMailer to version 6.5.4. The latest release includes some minor PHP cross-version improvements and a safeguard against hosters disabling security functions. Note to hosting providers: don't disable escapeshellarg() and escapeshellcmd(); it's not safe! Release notes: https://github.com/PHPMailer/PHPMailer/releases/tag/v6.5.4 (#55187)
Upgrade PHPMailer to version 6.6.0. Release notes: https://github.com/PHPMailer/PHPMailer/releases/tag/v6.6.0 (#55277)
Update sodium_compat to v1.17.1. The latest version of sodium_compat includes further improvements for PHP 8.1 compatibility. (#55453)
Update backbone from 1.4.0 to 1.4.1., underscore from 1.13.1 to 1.13.2, and clipboard from 2.0.8 to 2.0.10. (#55547)
I18n:
List item separator should be a WP_Locale property (#39733)
Allow languages path in register_block_type (#54797)
Media:
Remove attachment_fields_to_save filter and deprecate image_attachment_fields_to_save(). This filter prevented removing attachment titles. This change set removes the filter and deprecates the related function since it is no longer used. (#39108)
Enable edits to custom image sizes. With a new filter edit_custom_thumbnail_sizes, users will be able to apply media edits to individual custom image sizes. (#28277)
Network/Sites
Improve cache key generation in WP_Site_Query (#55462)
Plugins:
Introduce the plugin_install_description filter. This allows for modification of the plugin card description on the Add Plugins screen. (#55480)
Convert apply_filters() into a proper variadic function. (#53218)
Posts, Post Types:
Pass the $update parameter to wp_insert_post_data and wp_insert_attachment_data filters. This makes it easier to determine in a callback function whether this is an existing post being updated or not. (#46228)
Posts, Post Types; Taxonomy: Translate default labels once. Improve the translation of post type and taxonomy labels by caching the translations during runtime. (#26746)
Conclusion
Now as the next big release, WordPress 6.0 is here. The updates and features that come with this major package are simply outstanding and add to WordPress's popularity and falling as one of the best CMS and website builders. And here's the additional resources (Ps. I've mentioned above!): WordPress improvements and WordPress field guide.
many changes have been taken from previous Gutenberg versions. learn more about WordPress Gutenberg 13.0 is here with Partial Text Selection, Pattern-based page creation, and Cover blocks!
Now before I go, a big round of applause and a salute to the WordPress team, for their zeal and dedication to continuously evolve WordPress, and keep it out there as the leading CMS and Website Builder.
Did you know?
WordPress 6.0 would not have been possible without the contributions of more than 500 people in at least 58 countries. Their asynchronous coordination to deliver hundreds of enhancements and fixes into a stable release is a testament to the power and capability of the WordPress community.
So, here's one to the phenomenal work and team of WordPress. And the next one to WordPress and its users, for my friends this is just the start. There is a lot more headed your way!