WordPress is open-source software, one of the most popular CMS (Content Management System) and website building platforms. You ask, what is WordPress? I'd suggest A beginner's guide to WordPress.
Before we get to WordPress themes and plugins, let's understand what a web page is, and all its different components. A website majorly has two components, namely: Design and Functionality. Well, there's more as your website's design, features, and little trickeries are made visible by some very important things. These things are HTML, CSS, JS (JavaScript).
HTML (Hyper Text Markup Language)
HTML (Hyper Text Markup Language) is the set of markup codes and syntax that are inserted into a file, which is displayed on a webpage. Simply speaking, HTML directs the web browser on how to display a page, header, footer, pictures, fonts, etc. This is what HTML looks like.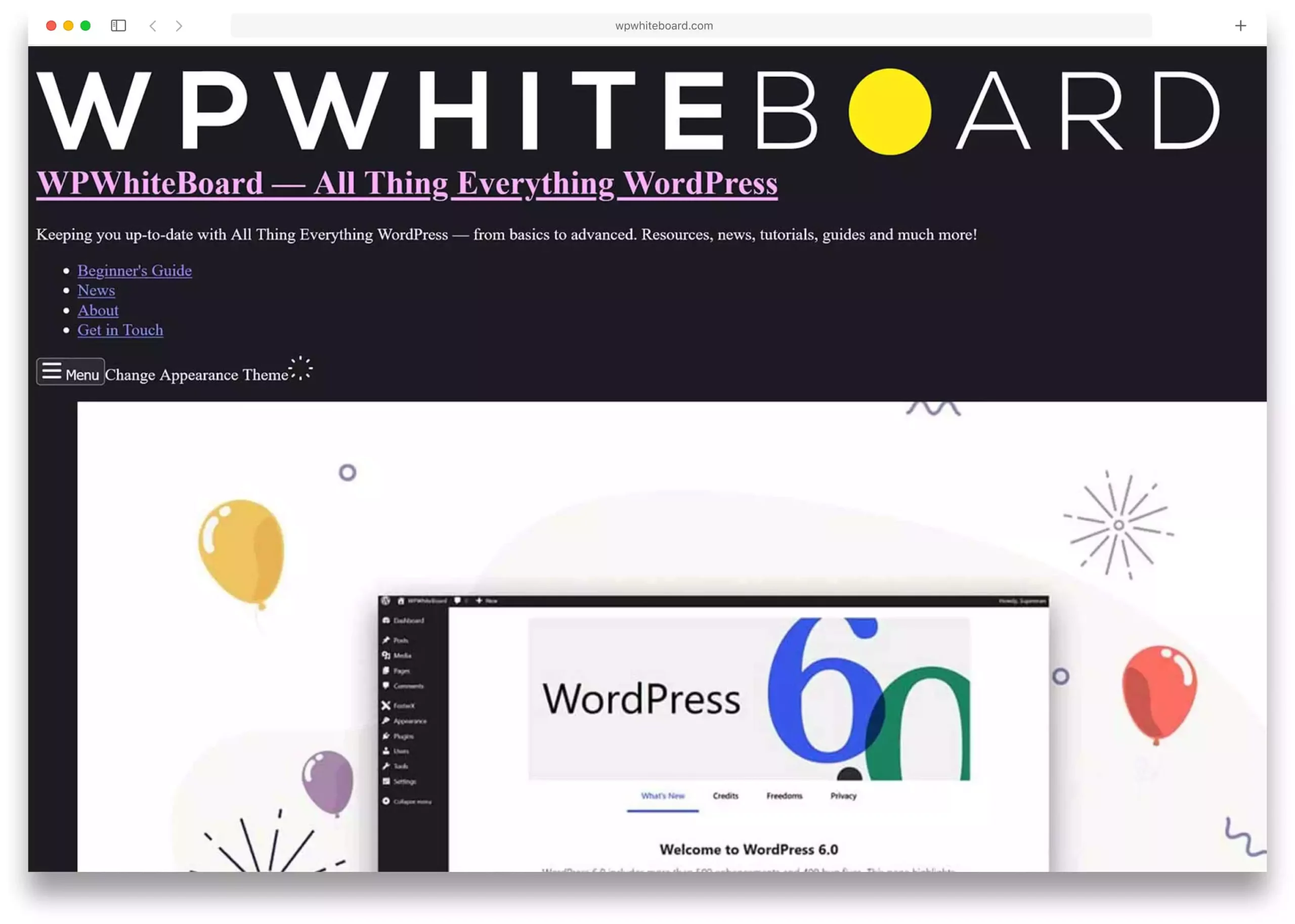 CSS (Cascading Style Sheets)
CSS (Cascading Style Sheets) is the language that tells the browser how to present the website. It handles the presentation of your website, what goes where, in what color, in what font, etc. Below is the example of how a website looks with CSS. (The above and below images are of the same website! 😵)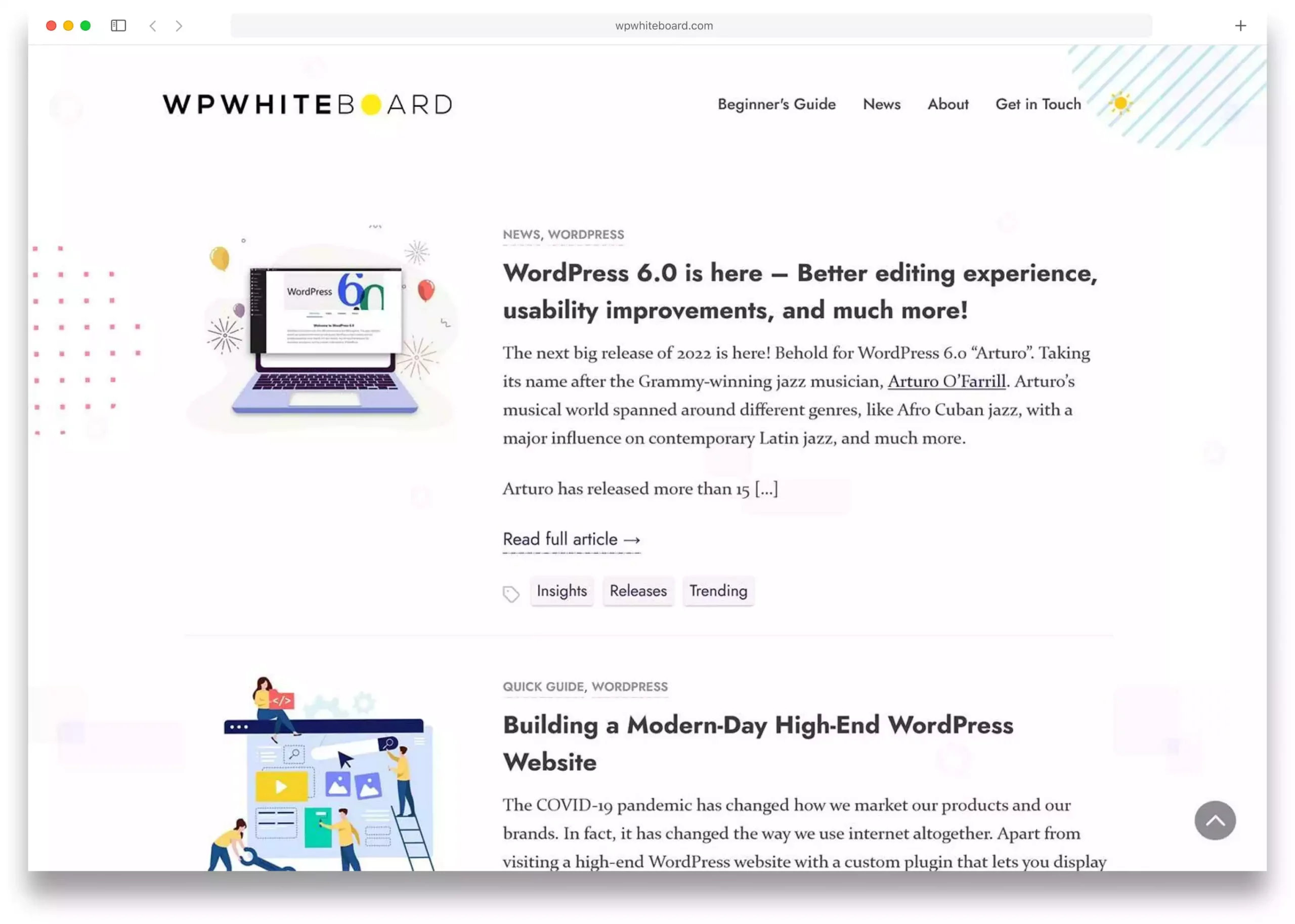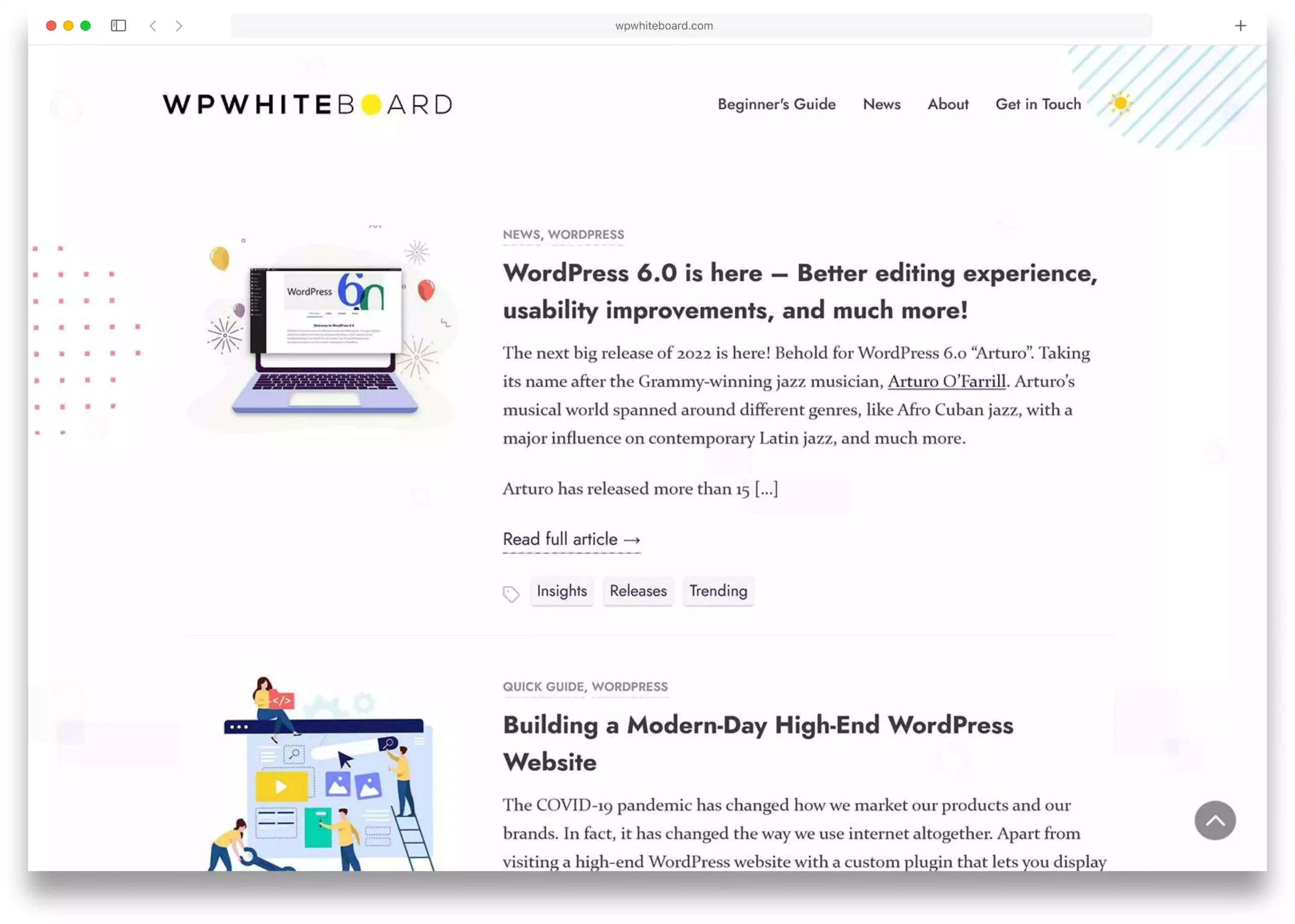 JS (JavaScript)
JS (JavaScript) adds dynamic and interactive elements to a website. More than 90% of the websites use JS, for a more intuitive, optimized, and faster experience. For example, a real-time update on the website, changes in product cart, live match scores, etc. are achieved with JS.
Note: You might get confused between HTML and CSS, think of it this way that HTML tells the placement of all the sections of your website. CSS directs the display of your website. Together, along with JavaScript, they are the cornerstone technology of the World Wide Web.
Coming back to themes and plugins..
The design part of your website mainly comprises templates. Templates are the layout and design elements of your website. They are like the skin of your website. It is a framework that houses all the fonts, colors, designs, etc. in it.
Functionality is something that offers additional features that you might or might not need. For example, the contact form (you may know it as newsletter or subscribe form), payment gateways, etc.
Now, let's ignite the chambers, and fire up some engines, To Planet WordPress! 🪐
WordPress has two pillars, which hold the fort together, and give you the design and flexibility that we all love so much.
The two pillars making WordPress websites magical and breathtaking are – Themes and Plugins. People embrace, for we are going to understand what WordPress themes and plugins are? And what is the difference between themes and plugins? (It's pretty simple actually, I was just creating some hype). ⚡😆
WordPress themes give a framework or a structure, dictating how the website is going to look, what goes where, and other design elements (think of it as a body structure and clothes on a person). WordPress plugins are little plugs that look small but pack the force of an atom bomb 💣 (think of plugins as attributes/features of a person. It could be a few and it could be many).
Plugins are installable little packages that provide you with a lot of different features and functionality.
This is why a WordPress-powered website is loved and famed around the globe. Apart from being a great CMS, it is a great platform to build the website of your choice, with a host of premium themes and plugins to choose from! (most of them are free!)
Themes (What are WordPress themes?)
Themes give your website an overall look and appeal (like those clothes on you, looking sharp 😎). It has templates, which provide uniformity and a streamlined appearance (basically a way of how things should look like). It contains everything, fonts, layout, design, colors, navigation, and just about everything (well, not the burden of your dreams😵). So, here is everything you need to know about the looks of your website.
Do you know?
A website has different pages, like, About Us, Team, Posts, Blogs, 404, etc. These are all templates, and the best part, you can design them however you want. And even you can do it too! How?
With 31-0 KOs, the undefeated, the revolution, the jazzy killer, first time ever, the people's champion – WordPress block themes.
With block themes, you get complete control over design elements, layout, and landing page (some also call it a hemorrhage homepage 🏠) but you do not have complete control over it. So, themes are an amalgamation of different templates, coming together to make your website awesome, beautiful, and eye-catchy!
Why WordPress Themes?
Well, the answer is quite simple, for ease of use and simplicity (Also, they look great!). Coders can type in codes, and make a website in a short time. But non-coders, like me (and maybe you 🥲), will take forever (not literally, I ain't that bad, okay maybe 🤣) to create a website. Oh, wait, adding the design, CSS, and other functionalities (make that forever only).
So, what can we do? Where do we go?
The answer is simple – WordPress! WordPress is much more than just a CMS, it is also a website builder. Well, that is why it is extremely popular and much loved.
You get over 9,700+ free WordPress themes to choose from. And the best part, there are themes for every occasion. You can pick a theme that falls in line with your website, its goals, idea, services, and aim.
There are different themes for different use-cases, like WordPress blog themes, news themes, e-store themes, business themes, and many more. You can pick any depending upon layout, features, and subject. Also, you have a filter that can help you find the theme that meets your exact requirement and needs.
Also, you can pick some exclusive and premium WordPress themes. But to get exclusive and premium WordPress themes, you will have to pay some money, you rich, rich human! (Btw, since you're so rich, your kind and generous contributions to my coffee trust ☕🏧 will be extremely appreciated!)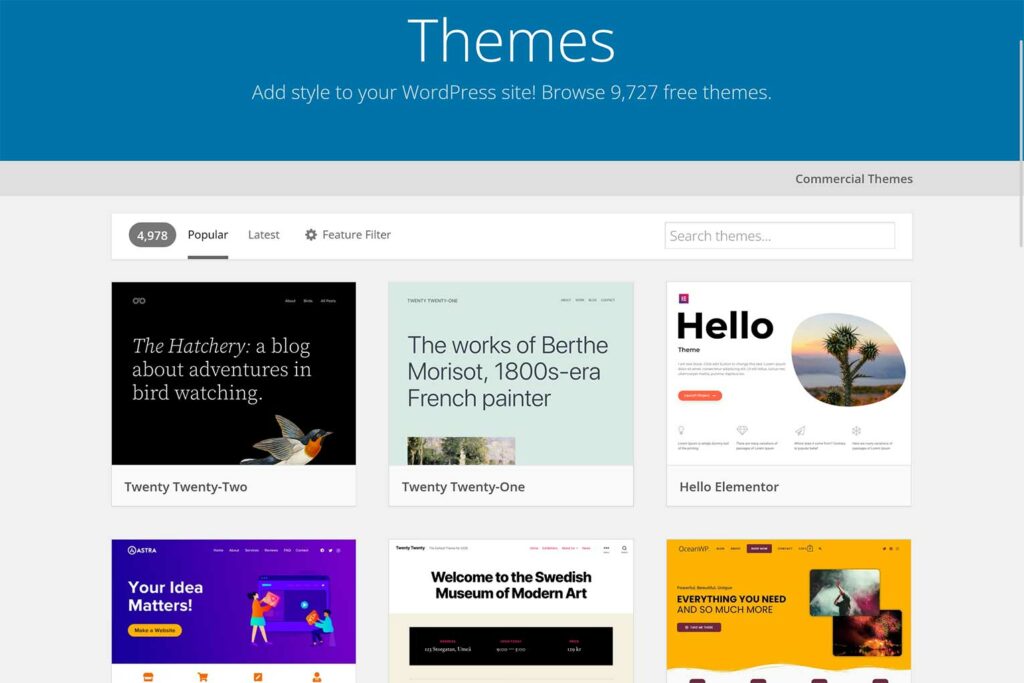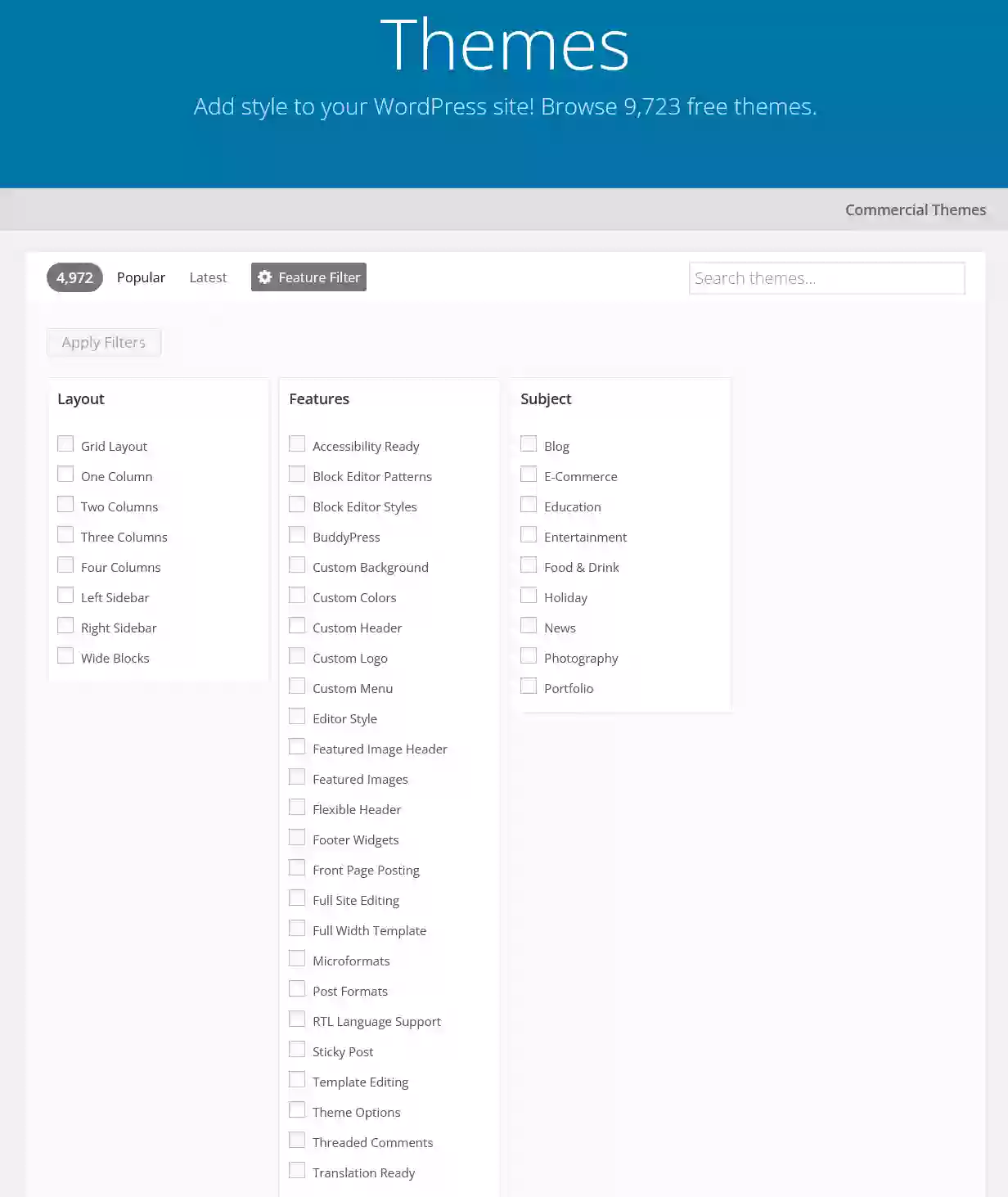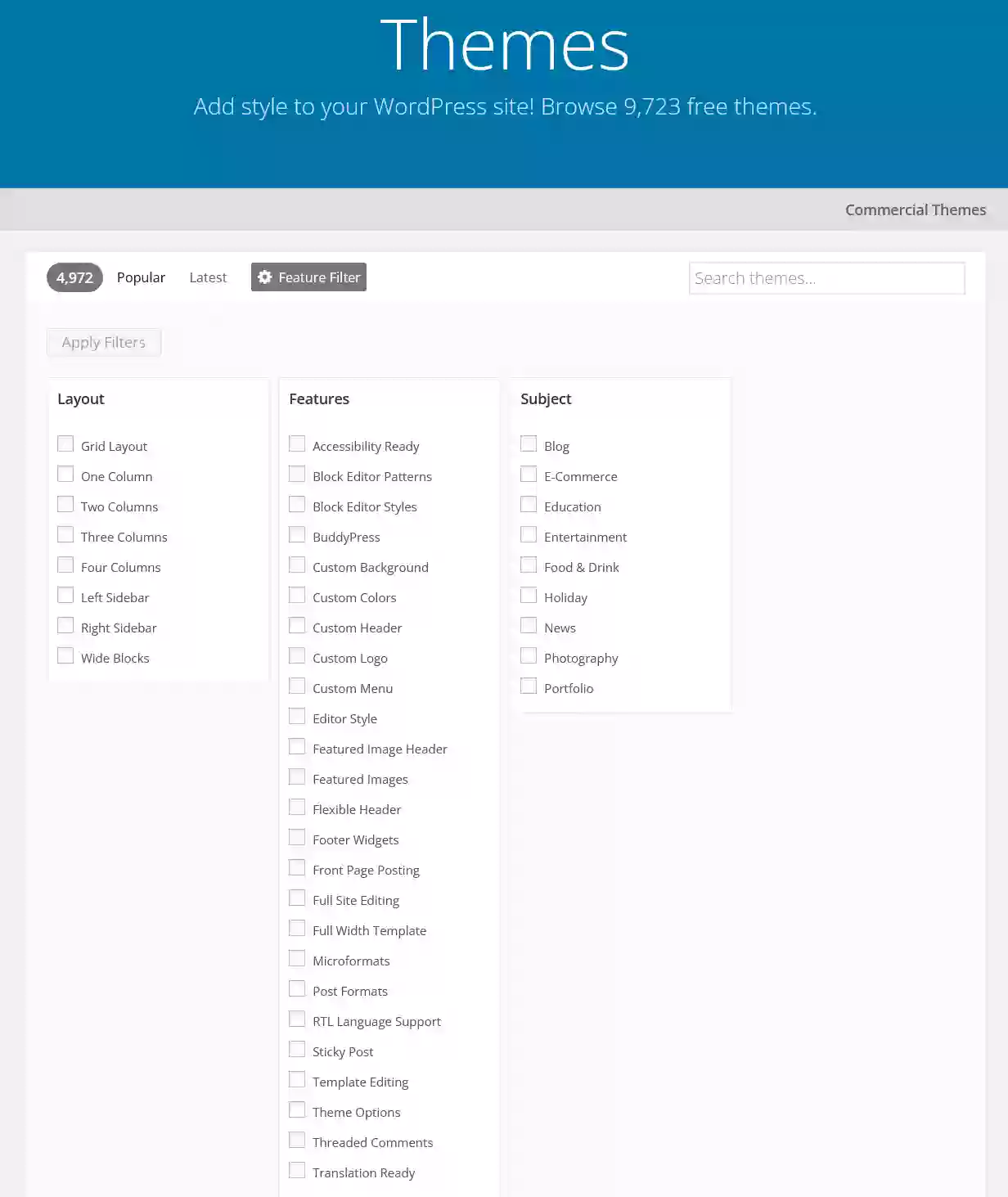 Theme Meets the Dream!
Now that we understand the what and the why of WordPress themes, we can proceed to learn in-depth about them. You know earlier it wasn't this good, themes had limitations, not great flexibility options, and limited features. It needed a change, a storm, or just a hug and some words – "It's not me, it's you".
Designing and creating themes is something that a developer or a coder can manage without much worry. But for non-coders, it can be a touchy situation. For non-coding entrepreneurs (I'll come up with a quirky abbreviation soon!) it would involve hiring a developer, and incurring expenses.
But fret not, WordPress has given us the answer and it is a damn good one – Full-site Editing and Block Themes!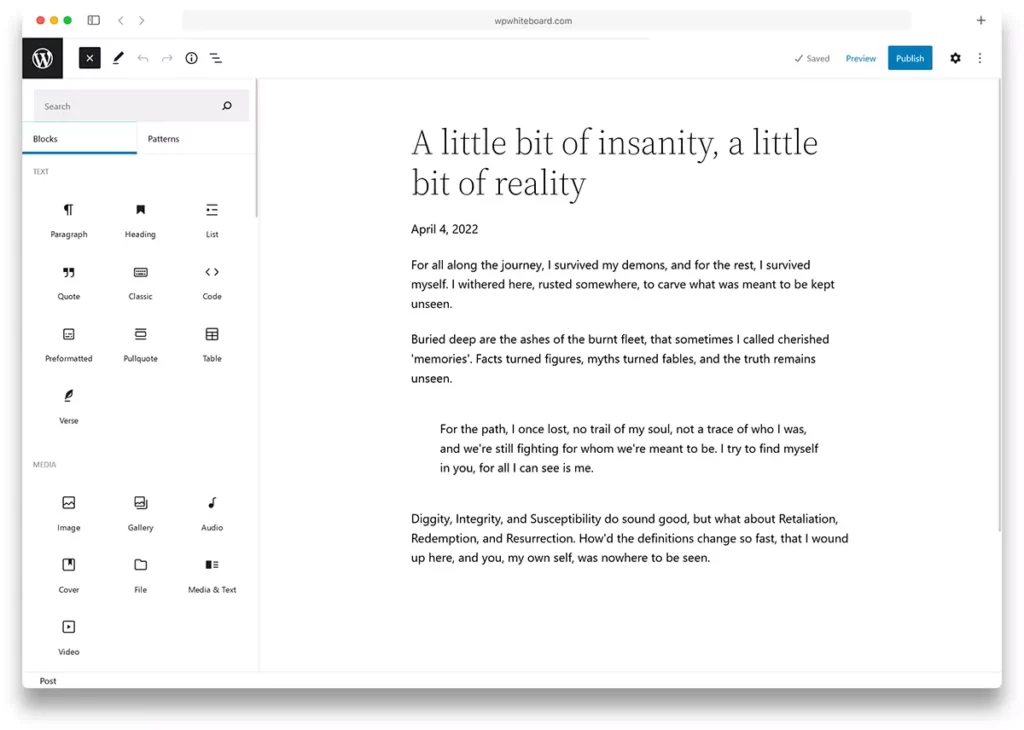 These blocks are now what form the core of any theme, post, template, etc. So, you can select blocks from a long list and add features and designs to your website. You still would need CSS to get the shadow bits, add animations, etc. But, if you want a website that looks simple, clean, and elegant, then your prayers have been answered!
Block themes allow you to create your website, right from the home to 404 pages!
Not only this, but you can also have minimalist WordPress themes, mobile-friendly WordPress themes, and much more. You have complete control over your website, and you can make it however you want.
As you get to decide how many CSS and dynamic elements you want on your website. This also ensures a clutter-free and one of the fastest WordPress themes. Adding too many design elements and animations can lead to slow loading of your websites.
Now, as you gain complete and holistic control over your website, it becomes easier to create something that aligns with your business and goals precisely.
Future of Themes?
Themes are again in the spotlight, especially after the introduction of block themes. The advent of blocks has opened the pathways for more design, accessibility, and functionality. Full-site editing has enabled us to create a theme and webpages of our liking, without much coding knowledge.
Plugins (What is a Plugin on WordPress)
A plugin is a complex piece of bomb software that adds functionality to your website. As the name suggests, it 'plugs in' to your website, to give it that missing x-factor. There are a lot of plugins with different features and functionalities.
Plugins offer that missing functionality that themes cannot offer (Hey, give those themes a break, they're still evolving 👨‍💻). Now, you must think about just what you can do with these plugins?
Well, think and it is available right at the click of a button. WordPress security plugins, WordPress backup plugins, plugins for added protection, WordPress performance plugins, migration plugins, plugins for email, forms, payment gateways, and much more. Most of the functionalities that you see on a WordPress website are the wonders of these quintessential plugins!
Why Plugins?
It's a no-brainer that we all want the best features and widgets available on our website. And these plugins help us achieve that and that too for free (most of them are)!
You might think that themes and plugins are great but what about other CMS that offers drag and drop features, etc. to create your website? Well in my personal opinion, that rips off the feel and creativity of the whole website-building journey. But if you want that feature, you have WordPress plugins for that too, like Elementor, Divi, etc.
So, plugins can offer small tweaks to monumental changes to your website. They are packets of explosions that come in different REP (Relative Explosive Power 💥).
One question that must be coming to your mind is, are WordPress plugins free? Also, just how many WordPress plugins are there?
You get over 59,000+ WordPress plugins to choose from.
Get access to any feature and flexibility you want for your website. Want contact forms, payment gateway, product notices, analytics, SEO, and the list never ends! And yes they are free (there are paid ones too!).
For every problem there's a solution, so for every feature or functionality in WordPress, there's a plugin. Just make sure to use the ones that are compatible with the latest WordPress version (for security reasons).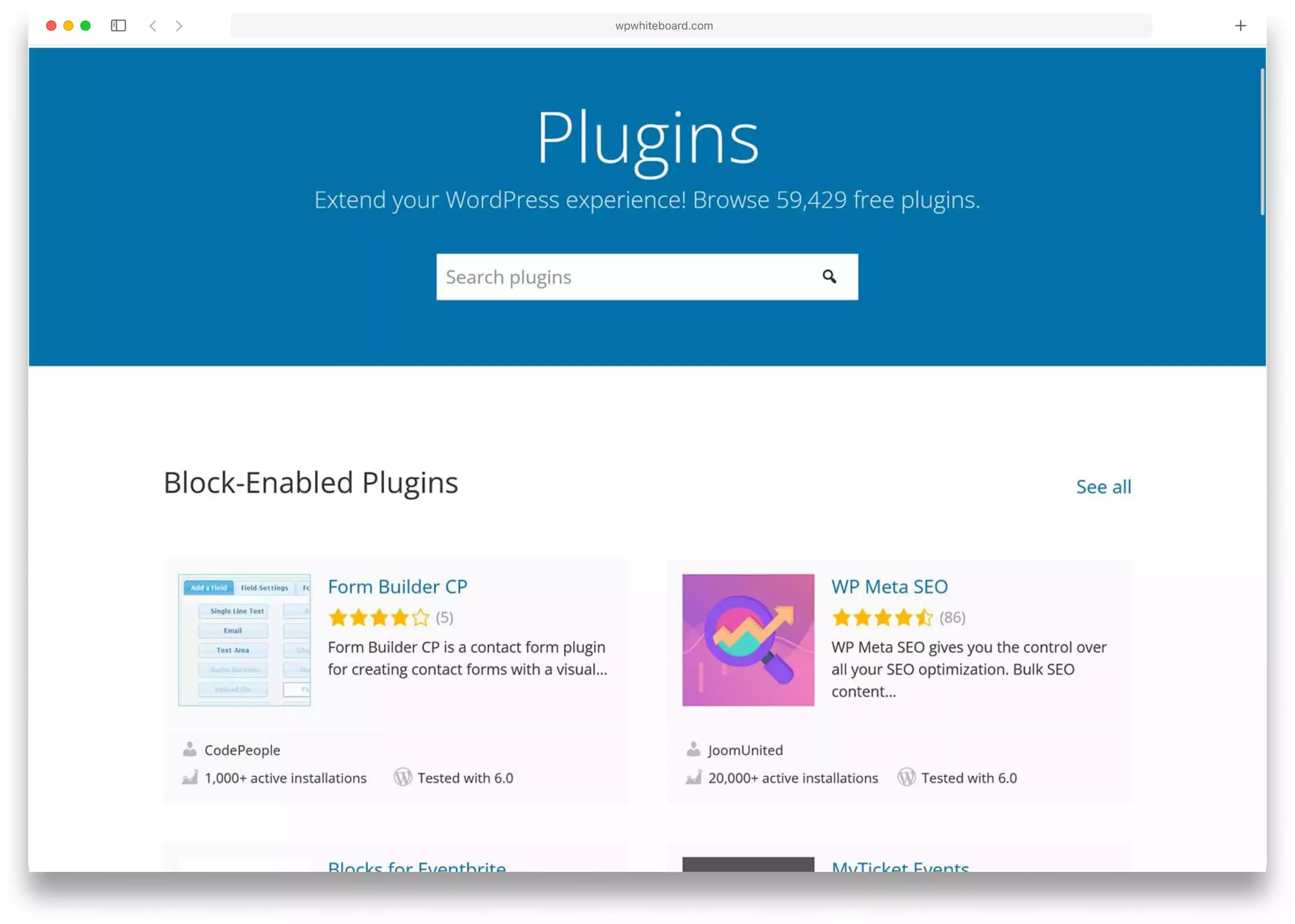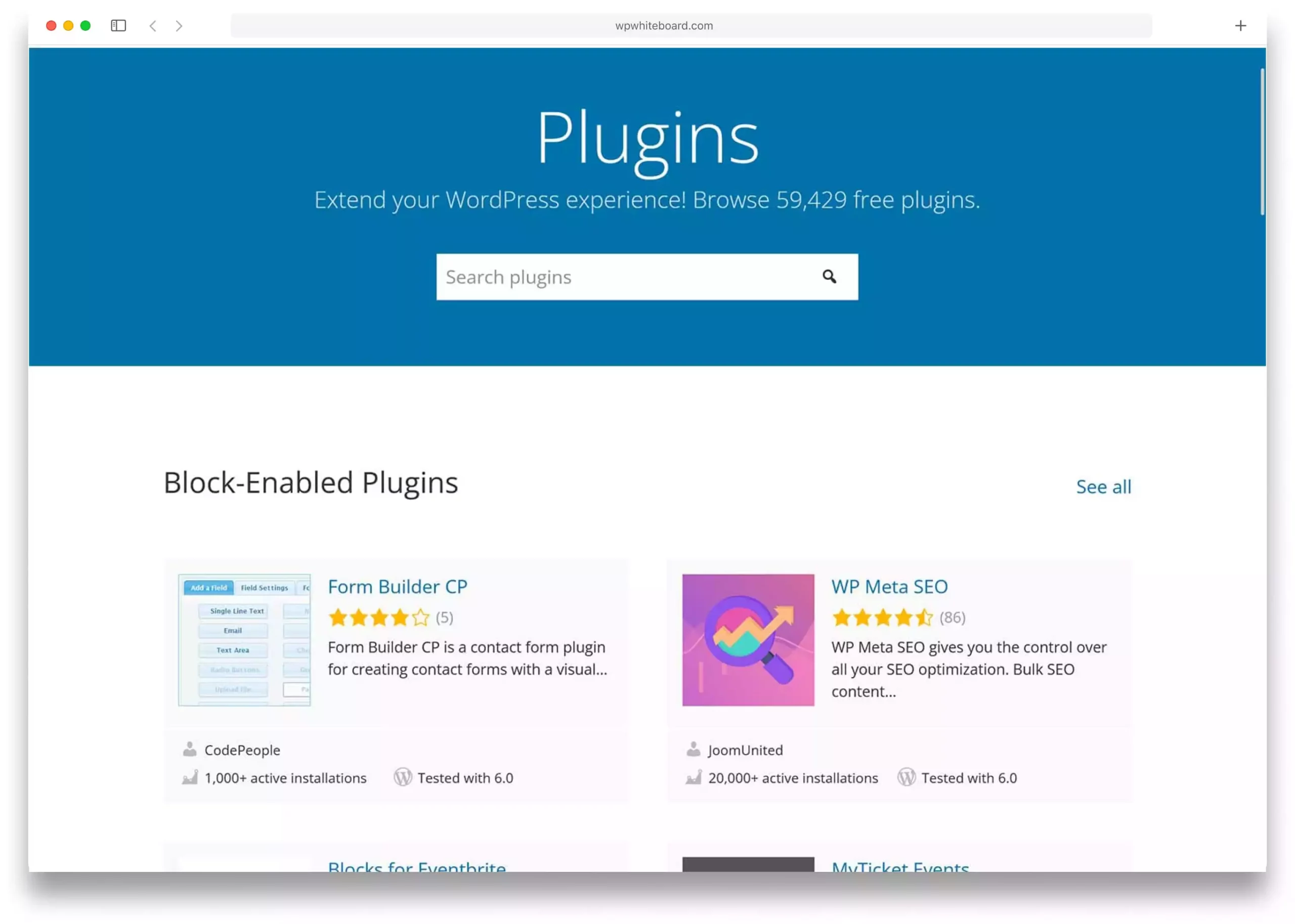 How to Install WordPress Themes and Plugins?
Now, installing WordPress themes and plugins is very simple. All you have to do is go to the WordPress dashboard, there you will have the menu on the left. Select plugins/themes.
You can also search the directory, and apply filters to find a theme or plugin that best suits your needs. Click on install, then click activate, and voila! It's done, my friend. You have successfully manually installed a theme/plugin on your website!
To use full-site editing, hover your cursor on Appearance, and in the menu select Editor. Voila! You can now edit your homepage, and create a design you want. For those looking forward to design ideas or ready-made blocks, check out WordPress Patterns.
Most importantly, there is no restriction on the number of plugins you can use (unless you have managed hosting, as most do not allow some plugins, especially those that clash with their platform's codes. Read more here: managed vs self-hosting).
So, you can pick any number of plugins you want, and don't worry about how to customize WordPress plugins or how to update WordPress plugins. It's very simple and happens at the click of a button. We'll be coming up with more guides, clearing any remaining whiff of doubt you might have.
Plug-In to the Future!
Did you know that some plugins are so damn good that they are integrated into the core software? Yes, some plugins with their spectacular features and mind-blowing functionalities make them a must-have default option for the core WordPress software.
Another fun thing to know is that Gutenberg started its journey with WordPress as a plugin in 2018. It is still available as a plugin, but it was Gutenberg that first introduced 'block editing' to the world of WordPress.
This was taken in by the WordPress team, and integrated into the core software (Of course, after major overhauls and upgrades!). So, we can say that it is the Gutenberg plugin that laid the foundation for block themes and full-site editing.
A moment of attention: All the hyperlinks (like this → WPWhiteBoard) leading you to other articles are based on real search queries, your demands, and my WordPress journey. They are for your perusal and additional information. The choice to read them lies with you, but rest aside, this article covers everything you need to know about WordPress Themes and Plugins!
What is the Right Choice for Me?
"What you perceive is your reality, what I perceive is mine. There is no reality as such, there are just perceptions". So, the definition of right and wrong blurs here, allowing you to go crazy with your choices. But, hey there's a limit to everything, as even drinking excess water is harmful (I kid you not!).
There is no fixed number of plugins to have on your website, you can have as many as you want. Just make sure that they're useful, else you're just going to clutter up your back-end. Also, there will be too much load on your website, thus affecting the loading time.
Side Note: There's always a lingering question and confusion as to what type of theme is best for different use-cases, which plugins are good, and which to avoid, etc. We are working on the same to provide you with an in-depth analysis of all-thing-everything WordPress. So, make sure you subscribe to our newsletter, and stay updated, cause we are going to ramp up production and churn out great content as we officially launch WPWhiteBoard.
Kindly Note: Because I'm a mere human, I can exploit the right to be wrong…sometimes. Here, you learned about WordPress themes and plugins. If anything needs correction, or you have more topic suggestions, or need someone to chatter with, state your purpose and content intent at [email protected] 🙃