I often wonder where WordPress stands currently and where it is heading. With the recent updates, we got several never-seen-before features and functionality. The WordPress block editor was a step apart from the traditional editor. WordPress Block Themes is a modern day theme with templates built using Gutenberg blocks. Unlock loads of functionality and complete editing controls to your whole site. Now, you get full-site editing, site-wide blocks, more control, and the first WordPress block theme ever — Twenty-Twenty Two theme!
You must feel these features are a great add-on, which they are, but these changes were necessary. Why? Because, "Becoming a leader is an enticing journey, but staying a leader is a constant war." ⚔️
WordPress is one of the most popular and widely used CMS and website builders. To hold onto this status and grow, WordPress has to keep offering ground-breaking features and updates. As it does not take long for new players to jump in when the leader is slacking off (example: Nokia was an industry leader, but they failed to adapt to the Android OS before the competition. Where are they now? 🙊)
I feel this is enough to know why constant updates and innovations are necessary. As critics of WordPress say, it is slow and the process is painful, but hey, it's run by a community, and everybody has to agree. That's why WordPress is extremely popular, widely accepted, and powers 43% of all websites! 🙃
Let's get to the objective of this article!
Now that philosophy is dealt with, let's look at one of the most innovative and exciting features of version 5.9. This article is dedicated to block themes. We will embark on a journey to understand why blocks are so loved and very much needed.
WPWhiteBoard always goes above and beyond to bring you the most up-to-date and important WordPress information. This article is all about estimating the journey of WordPress in the past, present, and future!
We are not alone this time, as we got the opportunity to connect with Rich Tabor. He is a super cool designer and developer 👨‍💻, who has been developing and launching multiple products on WordPress since 2011.
Rich is the creator of Wabi, one of the first block themes for WordPress. It's beautiful, intuitive, and continues to receive widespread love and affection. Before we discuss this amazing piece of art, let's understand the importance and need for block themes.
Let's get to know the history a bit, and then move to the present and into the future, people! (Ps. find insights on Wabi and Rich's views on where WordPress is heading in the later section(s) 😎)
Now, let's head back to the hot topic of this article: WordPress block themes. Let's turn back some time and understand why the block themes were needed in the first place.
Why do we need WordPress block themes? (The Past)
If you're new to WordPress, started recently, or have been here since the dawn of the ages, Gutenberg (yes, blocks, smarty!) has revolutionized the usability and feel of working on WordPress, since it first arrived in 2018 as a part of WordPress 5.0.
Ever since the advent of WordPress in May 2003, the editor didn't change much until recently, sticking to the open-source TinyMCE editor. If you haven't heard or seen much of the classical editor, here is an images of the same: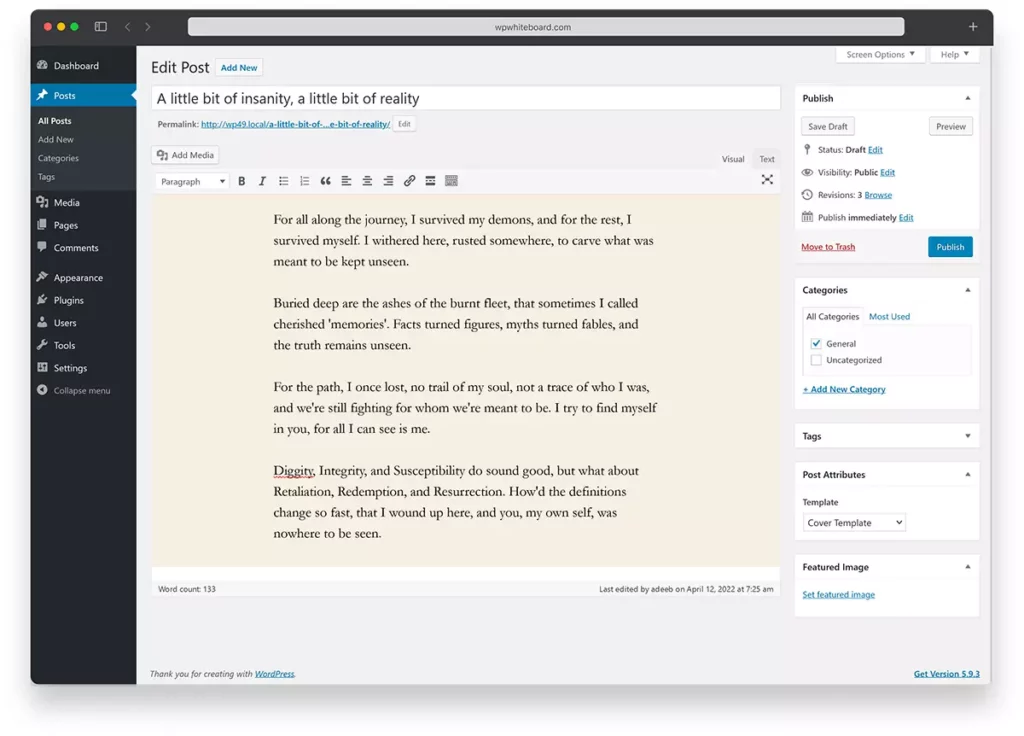 Now, as I said, the past and the present, here's what the present looks like: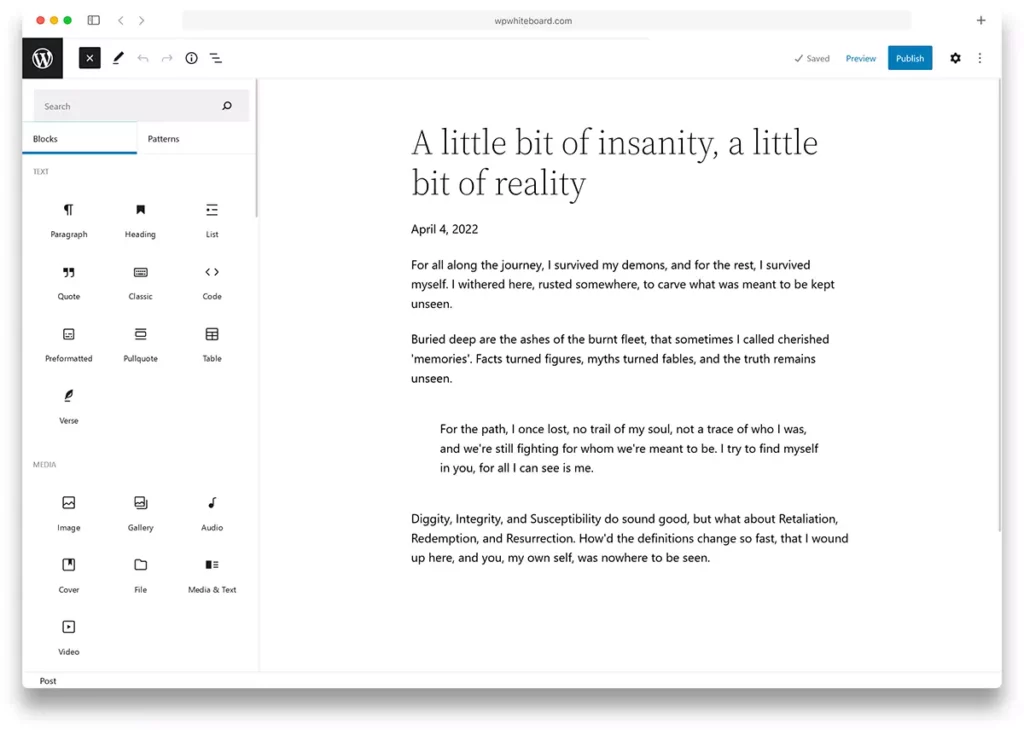 As you can observe the stark difference between them. No wonder, the WordPress block editor, although being here for a short time, has become the apple of WordPresser's eyes!
This was a much-needed change, as other website builders offered intuitive ways to create an appealing website with a unique feature: drag and drop. This feature allows you to select distinct elements to suit your needs, and just drag and drop them to create your awesome site!
Though there have been quite a few popular and widely used plugins, like "page builders" in the market working on top of WordPress-namely Elementor, DIVI, and a few others. These continue to be used by people and deliver most of what is needed to get your website going. However, at the end of the day, all of those are plugins that, in some way or another, extend or change the default WordPress editing experience.
And then came Gutenberg!
So, WordPress, as a software itself, over time, evolved to provide more look and feel, and that is why people all over the world love it (including us!). But the integration of the Gutenberg plugin changed this completely. Gooooo! WordPress🥳
So, on to WordPress block based themes now. As things evolved with WordPress, and the Gutenberg plugin rose to fame, the next innovation was full-site editing, which is why we finally got block based themes!
Traditional themes did not give developers and designers much room to try their creativity, owing to limited (to a developer) features and rigidity while using old WordPress customizer your website. Check the images below to get a feel of how the old WordPress site editor looked and felt like.
How can you say amazing without comparing how WordPress block themes and their flexibility fare with traditional themes? Here's a look: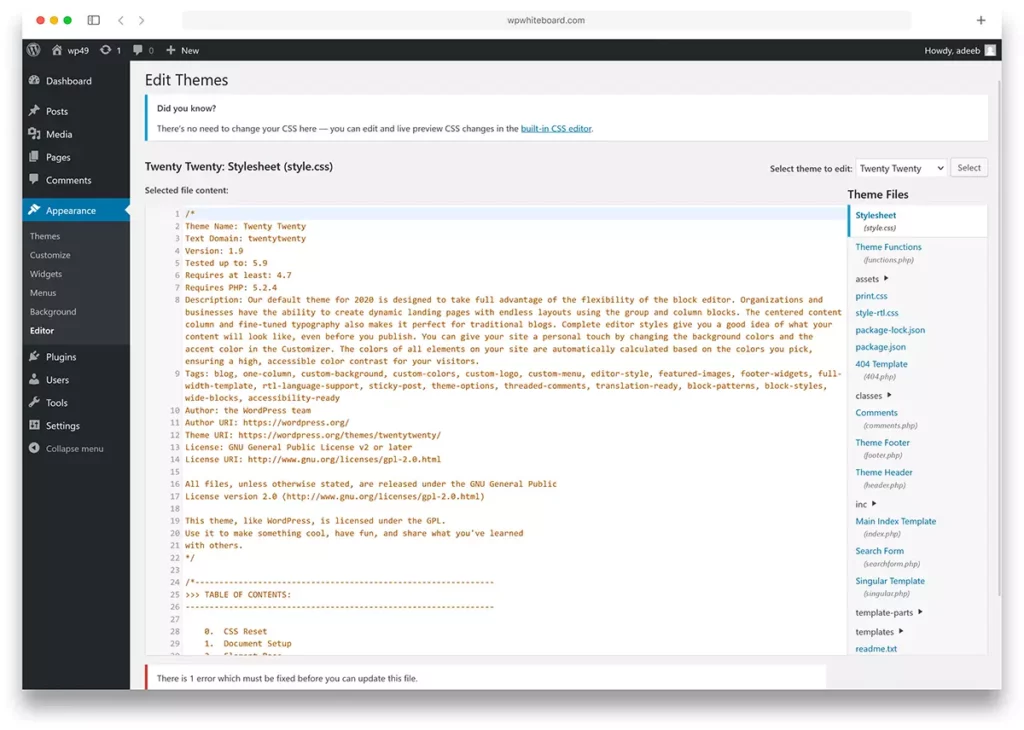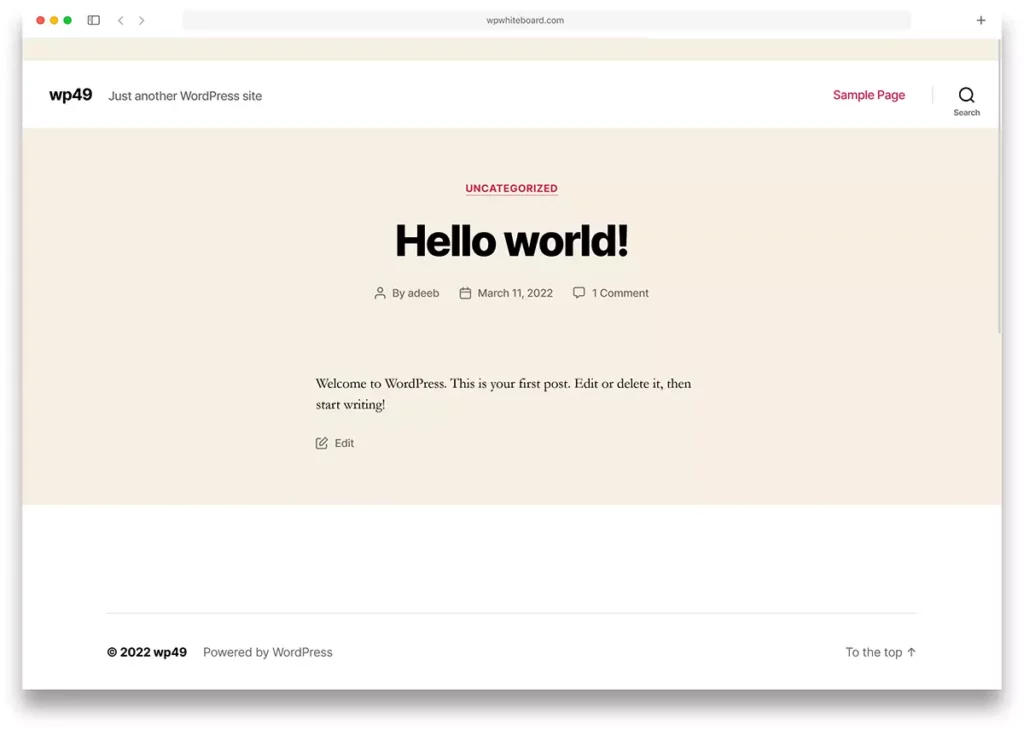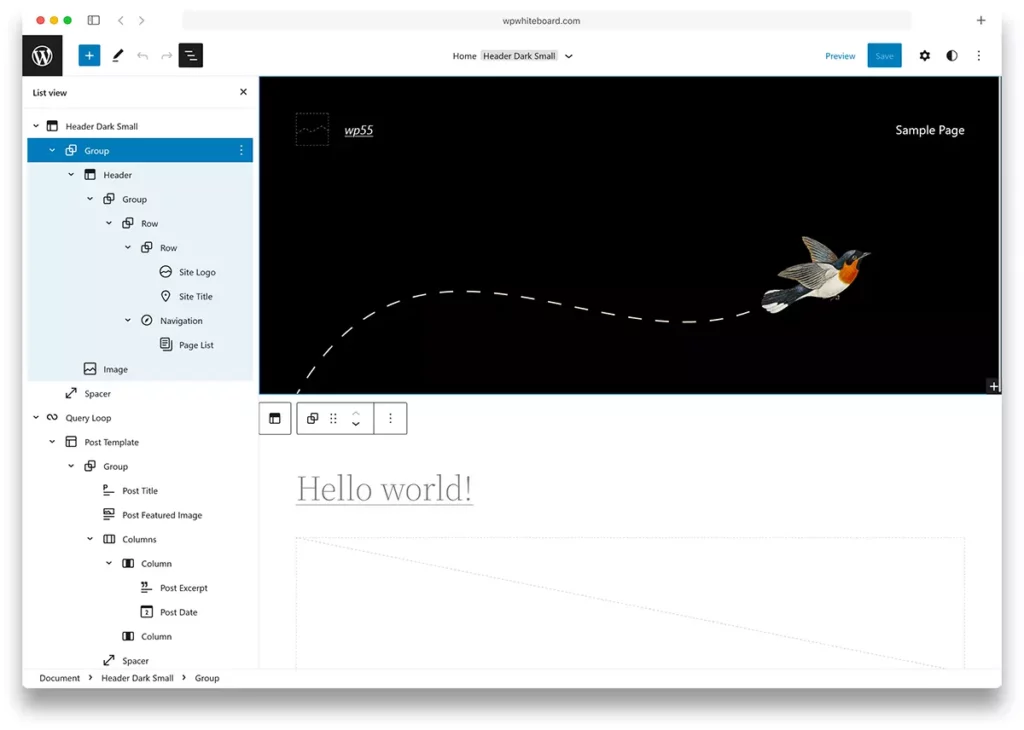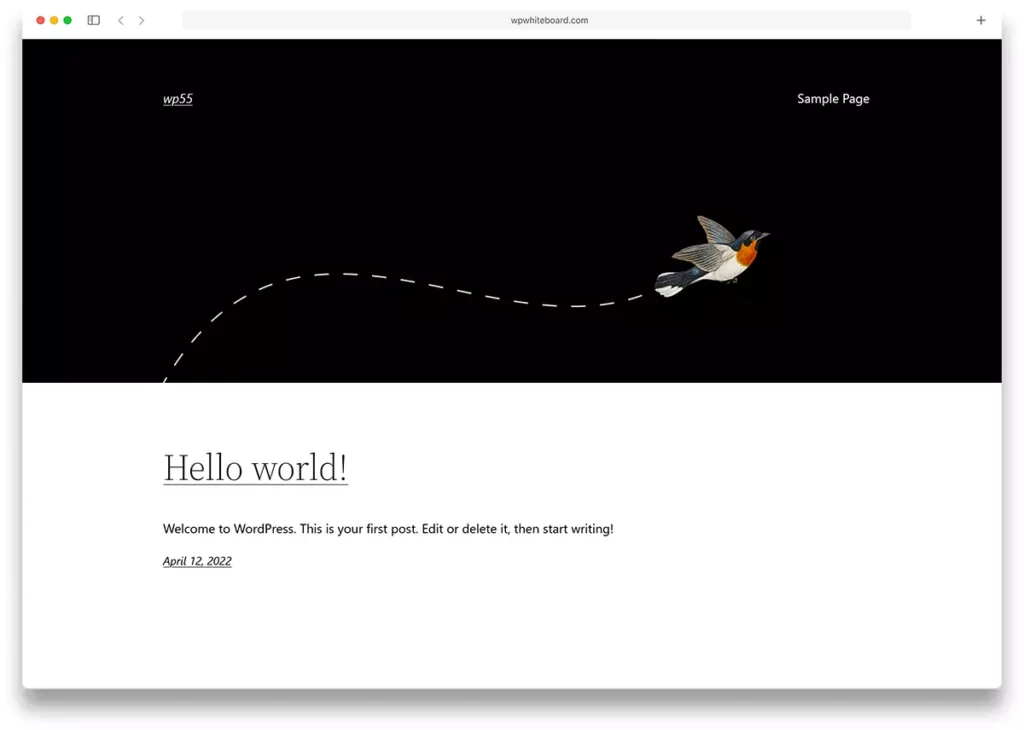 Now, you know how block style editing enhanced the usability of WordPress, earning it an immense reputation and popularity. This was also a major addition to WordPress block themes, leading to a whole new experience for the user.
The Present!
WordPress version 5.9 introduced the first-ever block theme, Twenty Twenty-Two theme. This theme has changed how we look at WordPress. It has revolutionized the interface and flexibility of WordPress completely. This new addition has started a chain reaction, attracting theme developers and designers to push out interesting and innovative products and services.
One such theme I wish to talk about is Wabi. Wabi is oriented towards writers and publishers. The USP of this WordPress block theme is its design element. It lets you create an appealing website that is oriented toward an intuitive content editing and publishing experience.
Hey! We're not promoting anything but ourselves 😆. We cover everything because we are All Thing Everything WordPress! Personally, I really like the Wabi theme. So, why not cover it and give due credits?
Now, WordPress block themes allow an added sense and touch of personalization. I'd rather show you first than explain!
As we got blocks, full-site editing, and WordPress block themes, the editing experience had a major overhaul and provided us with a lot of features and functionality. Site editing and designing have leaped to another level in 2022, with the introduction of the first-ever block theme.
Now, you know how block editing enhanced the usability of WordPress, earning it an immense reputation and popularity.
The Future!
I believe it is preferable to get an opinion on this from someone with far more experience than me and who has in-depth details and insights on and around WordPress.
People of WordPress, please welcome Rich Tabor! A round of applause, per favore! We spoke briefly with him about Wabi, his upcoming work(s), and, most importantly, the future development of WordPress.
Let's get down to our conversation with Rich, gain some insights, and Rich's take on what could be the next big change or the future of WordPress!
Where do you think WordPress as a CMS is headed with back-to-back updates, WordPress 5.9, Gutenberg 12.6, and a plethora of new features?

"I feel that WordPress is heading towards a more user-friendly and developer-empowering platform of blocks and themes. We're only at the start of this push forward; there's still a way to go, but we're making great progress." 🚀

My take: I cannot help but agree, as this year, WordPress has brought many surprises and features that have completely revamped the CMS and its feel. Now, you can have complete control over your website with never-before-seen design elements and functionality.

By the time this article is published, Gutenberg 12.9 will have been released, along with WordPress 5.9.2. See, I can predict the future now! Here's all you need to know about Gutenberg 12.9. Also, read about Gutenberg plugin version 13.0.

What, according to Rich, is the next step WordPress should take to keep up with the ever-changing modern-day technology and JavaScript specifically?

"I've always found that contributing to WordPress (Gutenberg in particular) and building products has helped me keep a pulse on the changes. It is honestly a lot to keep up with, even for himself, but something small like running a Full Site Editing theme on your blog helps a good bit as well. But all in all, you can't go wrong with diving into the Gutenberg Github repository and leaning into some of the issues or discussions."

My take: Hey, this isn't over; it's time you and I had "the talk." If you're learning WordPress, or know more about it inside and out than I do, I urge you to gear up and start contributing to WordPress. These features, and the flexibility that we love, come from strenuous and continuous efforts put in by different teams, taking time aside from their jobs and personal lives.
Props and cheers to all the unsung heroes who have worked upon WordPress to get it this far, making it one of the most famous and popular CMS and website builders in the world!
The future, you ask? Well, it depends on what you see in it. To contribute, interact with the community, and inspire. Who knows, the next big change in WordPress might come from you! So, you ask, where next?
A Vote of Thanks!
We never forget our amigos, and in this search to understand WordPress block themes and its features, WPWhiteBoard made a new one: Rich Tabor. Rich has been building and launching many popular WordPress themes for nearly a decade now.
As I told you above, he created Wabi. Rich created Wabi as a relatively low-risk WordPress block theme to dip your toes into Full Site Editing with. It's incredibly simple and intuitive in its entirety. And there aren't a lot of frills to get caught up in, but there are a lot of pleasant bits that I've enjoyed baking in.
Rich is also the Head of Products at Extendify. He is also working on a side project, Alana. It is aimed at revolutionizing how you interface with WordPress. It might launch this summer!
Note from Rich: I think we're on the cusp of a block theme revolution—an upward trend in the available block themes that folks can use in all sorts of niches. I plan on keeping Wabi up to date with the latest Gutenberg plugin version and Full Site Editing features, continuing to level up as an amazing theme for folks looking to publish online.
Conclusion
So, folks, this is where I sum up or try to establish the excerpts, but this topic has just started. There is a lot more to discover, learn, and know about WordPress block themes and its next updates.
Full-site editing and block themes make a killer combination, just like Bonnie and Clyde. The freehand given to developers in terms of design flexibility and options, and the simple editing interface enhancements, have made it much easier for non-developers and more interesting for developers alike.
Thus, providing the best of both worlds, Frankly speaking, the journey has just begun. One thing I can be certain of is that the best of WordPress and WordPress block themes is yet to come, and oh boy, it looks good!
Creator's note: We are working on more articles and invigorating topics. We might be slow, but being thorough is more important to us. So, as we pace up, I'd advise you to quickly sign-up and subscribe to our newsletter!