Every business/brand requires a well-performing website. You need a good-looking and functioning website irrespective of the use case: business, brand, selling products/services, blog, etc. If you already have a website, is the platform you're using right for your website's requirements?
If you have a website or plan to build a new one. It is important to map out all the features and functionalities that you'd want from your website-building platform. And then begins the journey of finding the right platform, hosting provider, and then CMS. This article is divided in two parts. Part 1 talks about the features and functionalities WordPress begins as a CMS.
Wait… CMS, what's that? A CMS stands for Content Management System. What it does is enable you to host and hold different types of content on your website. By different types of content I mean, articles, images, videos, infographics, portfolios, products, etc.
When all of this comes into mind, how about one platform that does the job for you? This is where WordPress takes the spotlight as a highly popular and widely used Website Builder and CMS.
WordPress is the undisputed leader, being the top choice of people looking to build a website using WordPress, create a blog using WordPress, etc., and publish content on it. The best thing is that you can make a website for any type of use case: Business, Brand, E-commerce, Blog, Portfolio, Showcase, etc. You name it and you can do it!
If you're still dicey about WordPress. Here are 10 reasons why you should choose WordPress:
Pricing
We all want the best at the lowest cost. This is one of the make-or-break factors in choosing a CMS. And I've got the perfect news for you. WordPress is Free! Yup, it's true, and aye, no hidden costs, or anything, don't you worry! ✨
WordPress is open-source software, which means it's free to use. I know you must be worried about if it gets consistent updates, etc. Yes, it does. I'll cover it in the later sections, don't worry. Coming back to the cost, you don't have to pay a cent 💰.
Just buy a domain, take a hosting space, and it's done! Install WordPress and get started! I know you must think WordPress is free but what about hosting. They are not free. Here's an article that'll help you decide the best hosting type for your website and its goals!
Easy Installation and Updates
WordPress is famous for its 5-minute installation. There's no holdup with complex and super detailed installation, which requires you to go through even more complex instructions. WordPress is built that way from the ground up to provide an intuitive and flexible experience to the users.
And there are regular updates and fixes, and patches. So, don't worry, your website will be safe and secure. Hey, if WordPress wasn't safe, why would 43% of the world use it? 🤔
Flexibility to Create any Website
With WordPress, you get the flexibility and functionality to create any type of website. You name it and you got it, WordPress ecosystem has so many features and customization options (we'll discuss them below) to get you the website of your dreams.
Thinking about performance and load handling? Well, WordPress has got you covered with a clean-looking interface and design options that'll make sure your website looks mind-blowing 🤩. While being light, fast-loading, and good performing at the same time.
Wondering why website performance is important for your business?
Here are 7 Reasons Why Website Performance is Important for Your business's Success
Not only for Developers (No Coding)
Well, the thing with using software is that somewhere or other it requires a software professional. This is an area where WordPress shines, because of how easy it is to learn and use. And it's not just that, it's easy to play around with.
So forget about hiring a developer, designer, etc. Yes, if you want a customized design and some extra functionality that doesn't come with the core software (or if a plugin doesn't provide it. We'll discuss plugins in later sections). Then you'd need the help of a professional. The growing use of WordPress has led to many online forums, blogs, discussions, etc. providing you with a great place to learn and get support.
This is where WPWB (Ps. WPWhiteBoard) comes into the picture, providing you All-Thing Everything WordPress! Find curated articles, equipping you with every tool and super-correct information to make you a WordPress Ace! 🥇
Easy to Learn and Use
Like every software, WordPress does come with a learning curve. But the difference is that once you get a hang of it, you'll love using it, playing with it, and working on it! Now, you must be thinking, okay all cool, but how to learn WordPress? Where do I begin learning WordPress?
Well, WPWB comes to the rescue again..bam 💥. I know starting is not difficult, but where to start is the most difficult part. For this, we've got our Beginner's Guide. It'll take you step-by-step, covering the ins, outs, and around of WordPress. Told ya, All-Thing Everything WordPress..😎
You should also know that WordPress website editor and WordPress site editor has evolved a lot, especially during this year with the introduction of Full-site Editing, Block Editor, and Block themes. More creativity, flexibility, and power to you!
Easy Maintenance of the Website and its Content
WordPress not only is easy to learn and use. But your WordPress website is easy to protect, safeguard, and maintain too! You've got plugins that can take care of everything surrounding website security, database, backups, etc. (and if a plugin doesn't provide that too! We'll discuss plugins too, all in good time!)
So, you've got everything handled by WordPress. What else do you need? Content Management and Content Classification?
WordPress handles all of it and that too with ease. All types of content are not only supported but also kept in a way that is easy for you to add, access, edit, and upload to your content. As simple as that!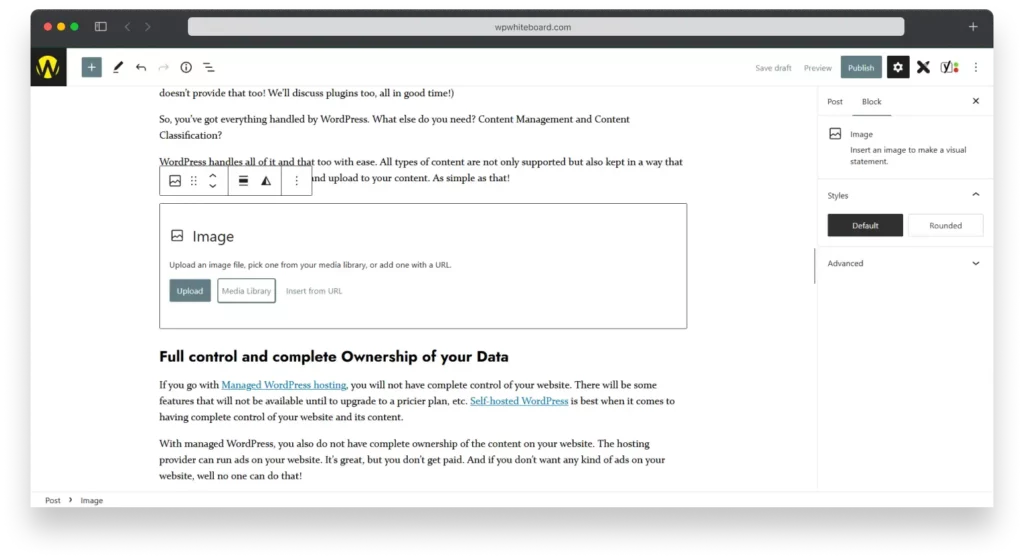 Full control and complete Ownership of your Data
If you go with Managed WordPress hosting, you will not have complete control of your website. There will be some features that will not be available until you upgrade to a pricier plan, etc. Self-hosted WordPress is best when it comes to having complete control of your website and its content.
With managed WordPress, you also do not have complete ownership of the content on your website. The hosting provider can run ads on your website. It's great, but you don't get paid. And if you don't want any kind of ads on your website, well no one can do that!
This is why I suggest going with a self-hosted WordPress website. It's cheaper and gives you complete control and ownership of your website and its content.
If you've checked different hosting providers, you'll see them offering added things like an SSL certificate, CDN (Content Delivery Network), etc. You get these features either for free like an SSL certificate or at cheaper costs than what these hosting providers charge you.
I'm not saying managed WordPress hosting is a bad choice. It's a great choice, but it should meet your criteria and needs. Here's something that'll help clear your confusion about choosing between Self vs Managed WordPress hosting. You can decide which one is best for you after reading this.
Supports Numerous Media Types
This is an important factor when choosing the best CMS for your website. No matter if you're going to hold just content and images on your website. What if you decide in the future that your website will have videos too?
Your CMS should be able to support and handle all types of media on it. WordPress is highly capable of handling different types of media. WordPress is capable of hosting a variety of media, including:
Images (.jpg, .jpeg, .png, .gif, and .ico)
Audio files (.mp3, .m4a, .ogg, and .wav)
Videos (.mp4, .m4v, .mov, .wmv, .avi, .mpg, .ogv, .3gp, and .3g2)
PDFs
Word documents
Excel spreadsheets
PowerPoint presentations
Adobe Photoshop documents
Hey, it's just getting started. Don't get too impressed with WordPress now. There's a part 2 to this article (Because there's so much to WordPress, this article truly deserves a part 2!).
WooCommerce Integration
All the shoppers and offer-holics, this ones for you! Well, not really..hehe 🤣.
If you're looking forward to creating and running an E-store, WordPress has got you covered here too! Cool, right? The WooCommerce plugin enables you to turn your website into an E-store.
With the WooCommerce plugin, you get a custom dashboard where you can add products, maintain inventory, track and check revenue, and much more. It also supports payment gateway, membership of physical products, etc.
Plus there's the added advantage of rising to the top searches by leveraging WordPress's SEO advantage. What else do you need? Get started with building your E-com store with WordPress today!
Endless Customization (Theme and Plugins)
This is why people love WordPress. WordPress comes with a plethora of themes and plugins to give you the best website building and CMS experience. You must be wondering just how many plugins and themes can there be..10, 20, or 50?
Well, as of today 4th January 2022, there are 59,993 plugins and 10,362 themes that are available for you to use and create the website of your dreams.
The theme allows you to create a website design that best meets your needs. And don't worry, you've got thousands of options to choose from. The same goes for plugins. Whether you need a simple form for database backup, security analysis, etc. It can all be done with plugins.
Don't know much about WordPress themes and plugins?
Here's an article taking you through All You Need to Know about WordPress Themes and Plugins.
Conclusion
In part 1 of the series, we discussed a lot of major factors why you should build your website with WordPress as your CMS. I think you've got a fair bit of an idea about what WordPress is. In part 2 of this series, we'll take on some more important factors which will get rid of any shreds of doubt you have about WordPress and its capabilities.
If you feel I've missed anything or would like to add more to this, drop your comments below! It'll be great to see your thoughts flowing on WPWB. And if you've got topic suggestions, questions, etc. feel free to drop a mail at [email protected].
FAQs
What kind of website can I build with WordPress?
You can build any kind of website with the use of WordPress. There are no limitations to the use cases and applications when building a site with WordPress. There are all kinds of themes available to build any kind of website. For eg. Business, Fashion, E-commerce, Real Estate, Consulting, Services, etc.
How to create an eCommerce website in WordPress?
You can create an eCommerce website using WordPress with the help of the WooCommerce plugin. It creates a custom dashboard with the required taxonomies to get you started for building your e-store.
How long does it take to build a website in WordPress?
WordPress is famous for its 5-minute installation. After the installation is done, the time required to build your WordPress website completely depends on the complexity and depth of your website's design and the functionality you wish to provide to your users.