Gutenberg 16.1 released on 29 June 2023 for WordPress. This version is loaded with bug fixes, enhancements, and lot of new features like Distraction Free Mode to Site Editor, Aspect ratio tools, and much more. Let's explore them in detail:
Synchronized Patterns in WordPress Gutenberg 16.1
The platform now allows users to create design patterns and sync them across their entire website. The design patterns, previously known as "Reusable blocks", renamed as "Patterns." When a pattern is synchronized, any changes made to it will automatically update all instances of that pattern on the website, regardless of their location.
On the other hand, users can edit unsynchronized patterns independently after inserting them. This means that changes made to an unsynchronized pattern will only affect that specific instance and not others.
The Pattern Library is a central repository where all existing reusable blocks, custom template parts, and patterns are displayed and can be searched. This makes it easy for users to locate and use these design elements. The patterns are also accessible in the block inserter, which makes adding blocks or elements to web pages, much easier now.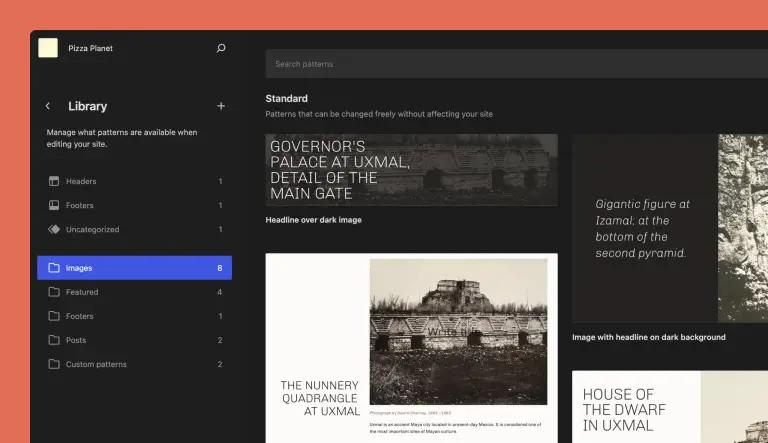 Distraction Free Mode to Site Editor
This feature was only available for writing posts. With this release, the development team has added the Distraction Free Mode to the Site Editor. This feature rolled out to block editor with Gutenberg 14.4.
Distraction Free mode removes all the controls and menus, when activated, providing a clean and focused work environment. In this mode, users can edit a 1:1 preview of their site, allowing them to see the changes they make in real-time.
To access the Distraction Free mode, users can use a keyboard shortcut: Shift+Cmd+\ on Mac or Shift+Ctrl+\ on Windows. Alternatively, they can find the option in the top right options menu of the editor. By enabling this mode, users can enjoy a distraction-free experience and enhance their productivity while building their website.
Footnote Functionality in WordPress Gutenberg 16.1
Footnote functionality added to Block Editor. Previously, users create and sort anchor links for footnotes, but now this process is automatic for enhanced convenience.
Footnotes can now be added to text blocks such as paragraphs, headings, and lists in the Block Editor. Users can access the option to add footnotes from the block context menu, making it easier to incorporate them into their content.
The Footnotes block in the editor takes care of managing the footnotes for users. As they edit their text, the block will automatically remove and reorder the footnotes accordingly. This automation eliminates the need for users to spend time manually managing links and lists associated with footnotes, allowing them to focus more on their writing.
Redefined Site Editor Sidebar
Several enhancements in Gutenberg version 16.1 related to template settings, configuration details, and theme previewing in the Site editor.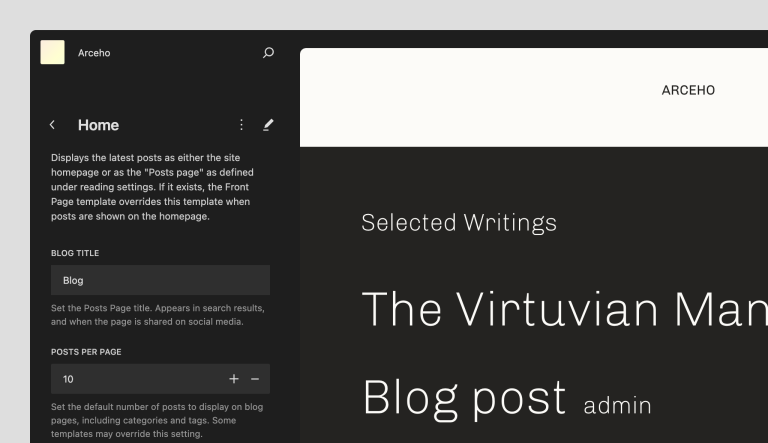 When viewing Home page templates, users will now have access to more template settings and configuration details in the sidebar. Users can also control blog options like the number of posts per page and the ability to allow comments.
In addition, when browsing a template part that includes navigation menus, such as the Header template part, the sidebar will display those menus. This provides users with a convenient way to view and edit all the menu items associated with that specific template part.
The live theme previewing feature, which was introduced in version 15.8, has been moved out of the experimental phase. Users can now access live theme previewing for installed block themes under the "Appearance > Themes" section. This feature allows users to preview how different themes will look on their site before making any changes.
New Aspect-Ratio Tools in WordPress Gutenberg 16.1
This version introduces aspect-ratio tools in Image blocks, giving users more control over the dimensions of the images they insert.
With the new aspect-ratio tools, users can manipulate the proportions of Image blocks according to their preferences. This means they can adjust the width and height of the image while maintaining a specific aspect ratio. Aspect ratio refers to the proportional relationship between the width and height of an image.
Enhanced Button Block
The button block has been updated. With this update, users can now easily rearrange Button blocks by utilizing direction-based arrows found in the context toolbar. The arrows allow users to move Button blocks back and forth or up and down within the editor.
Parting Notes
For a detailed list of all the enhancements and bug fixes, please refer to the full change log available here.
Discover all the upcoming and recent Gutenberg updates.
As always, stay tuned for more interesting news, articles, resources, etc., and subscribe to WPWhiteBoard to get the latest updates and more!