We've all heard about Non-Profit Organizations(NPOs), right? But have you ever wondered why they exist? Well, the utmost level of dedication to a cause is their raison d'être (reason for existence).
Like anyone set out to make a change, NPOs have a lot of ideas – all aimed at achieving their goals. And where does one put their ideas across? In today's age, most probably on a website.
Websites help showcase our message digitally and breach the barriers of locales, languages, and boundaries, reaching a widespread audience; after all the whole world is online, isn't it?
Non-Profit Websites prevail to make people aware of their objectives, their actions, and ultimately encourage people to support their aim. In this article, I will take you through the process to create a Non-Profit Website on WordPress.
How a Non-Profit Website is Different from a Business-Oriented One? 
Non-Profit and Business-Oriented Websites differ in their intent, purpose and approach.
The Focus
A Non-Profit Website focuses on raising awareness and promoting a cause.
Whereas, Business-Oriented Websites primarily advertise their goods and services, which bring in revenue for them.
Revenue
Non-Profit Websites mainly earn from membership fees, donations, fundraising initiatives, and any products or services; NPOs invest their gains back into their quest to fulfill their campaign.
Business-Oriented Websites are purely transactional; focusing on the number of purchases. They generate revenue from sales of their products or services.
Call-To-Action (CTA)
Non-Profit Websites encourage you to donate, volunteer or support their cause in some way, mainly to generate funds and increase people's involvement in their activities.
A Business-Oriented Website's CTA's are largely directed to get you to make a purchase or avail their services.
Narratives
Both types of websites prioritize delivering a smooth user experience to engage visitors.
Non-Profit Websites direct their efforts to create an emotional connection with their users, providing compelling narratives.
Nowadays, Business-Oriented Websites also provide absorbing narratives and focus on creating irresistible aesthetics or design.
Now that we know how the two kinds of websites differ, let's dive in further to learn about the common features of Non-Profit Websites.
Common Features of a Non-Profit Website
Every website is inherently different. Each website has its own unique story, design, purpose, and core substance. Be that as it may, there are certain common features shared by Non-Profit Websites. Let's take a look at them –
A well-defined 'Mission Statement
To convey the impact an NPO aims to make, it dedicates a page to elaborate on its purpose and the goals they plan to achieve.
Activities and Services
An NPO's website highlights information on the various initiatives, programs, and services they provide to give visitors opportunities to get involved and join them in their journey.
Call-to-Action (CTA)
CTA's are essential elements for an NPO, they motivate a visitor to contribute to a cause. The user is guided to a 'Donate', button or any other activities from fundraising campaigns to 'Become a Member' pages.
Easy Navigation
Most Non-Profit Websites have just the right amount of frills and no fancy, making them easy to navigate. This is done to capture people's attention while allowing users to quickly find vital information.
Success Stories and Impact Statements
To demonstrate the effectiveness of a Non-Profit, their websites display stories of their success and impact. It facilitates the emotional connection people feel with their organization and their goals.
Subscriptions and Newsletters
To keep people up-to-date with their activities, many NPO's regularly communicate with newsletters or blog posts. Their purpose is to share relevant information and keep members engaged with the organization's work.
As we have looked at some of the most common features of a Non-Profit Website, let's go one step further and learn how to make one on WordPress. You can tailor-make a website that effectively communicates your mission!
In a nutshell – Here's why to choose WordPress for your Non-Profit
Before we jump in on the steps to make a Non-Profit Website on WordPress, here's a quick thought on why 'WordPress' –
It is Economical
Perfect for organizations who have a tight budget, using WordPress is probably the cheapest method for you to make a website. As an open-source platform, you can freely download, change or edit the code according to your requirements. The only cost you would incur would be to obtain a 'Domain Name' and 'Hosting'.
A range of Themes and Plugins
WordPress has an extensive library of themes, allowing you to carefully curate a website that fits your purpose. If you require any additional features, there are various plugins, both free and paid, to fit your needs.
Scalability and Ownership
If you're starting small and hope to expand in the future, it is easy to modify the functionality of your website to effectively handle increased traffic using WordPress. An added benefit of using WordPress is that you have complete ownership and control of your website – you're the boss!
Regular Updates
With regard to the safety aspect, there's no need to worry, as WordPress receives regular updates that address security concerns and performance improvement. By keeping your application up-to-date, you can ensure making a secure website for your Non-Profit.
Keeping those benefits in mind, the next step is learning how to make a Non-Profit Website on WordPress.
Read – 'Reasons Why You Should Build your Website with WordPress as your CMS', to know more about the benefits of WordPress and why it's the best fit.
Steps to Create a Non-Profit Website on WordPress
Time needed: 4 minutes
Let's start from the basics and create a successful Non-Profit Website on WordPress – You ready? Just follow the steps 👣
Domain Name

A Domain name is a unique address used to access a website. Pick a name that aptly conveys what your organization stands for. Make sure you choose the right extension, i.e., '.org' or '.com'. 
'.org' (truncated from 'organization') domains are typically used for Non-Profits. The '.com' extension can also be used, but it's not NPO related, but hey, it depends on you!

Web Hosting

Now, time to find a suitable Web-Hosting. There are many options to choose from, here are a few –
Paid — 'Hostinger', 'HostGator', 'Bluehost'.
Free — 'Host Awesome', 'AccuWeb Hosting', 'Biz.nf'.

Decide a plan, and you will receive instructions on configuring your domain name with your web hosting. Typically, your service provider will provide instructions.  

Installing WordPress

Generally, you get a 'one-click' easy installation. Find the 'WordPress Installation' option and follow the instructions.

Themes

Time to choose a theme that best meets your needs.
Go to WordPress.org > 'Download and Extend' > 'Themes'.




Browse through and find "the one". 
Click "download". Once installed, start editing and designing your website!

Plugins

Plugins add additional features to your website. Choose from a wide range of plugins (both free and paid), to enhance your website's functionality.

Go to WordPress.org > 'Download and Extend' > 'Plugins'.


There are plugins catering to almost every need. Here are a few suggestions – 'Donation Forms', 'Volunteer Management', etc.

Theme and plugin(s) enable you to create a website that showcases your cause on a digital platform, in the best way to encourage people!

Before launching your website, thoroughly check the website's functionality. Once done, click Publish, and share your noble deeds with the world! 

Great going, you!
NPOs that use WordPress
You aren't the first Non-Profit to make use of WordPress' prowess. Because of the flexibility of tools and features that it offers, many Non-profit Organizations use WordPress to create their website(s). Here are some examples of NPO websites from your own guild!
Find more at About > Showcase on the wordpress.org dashboard.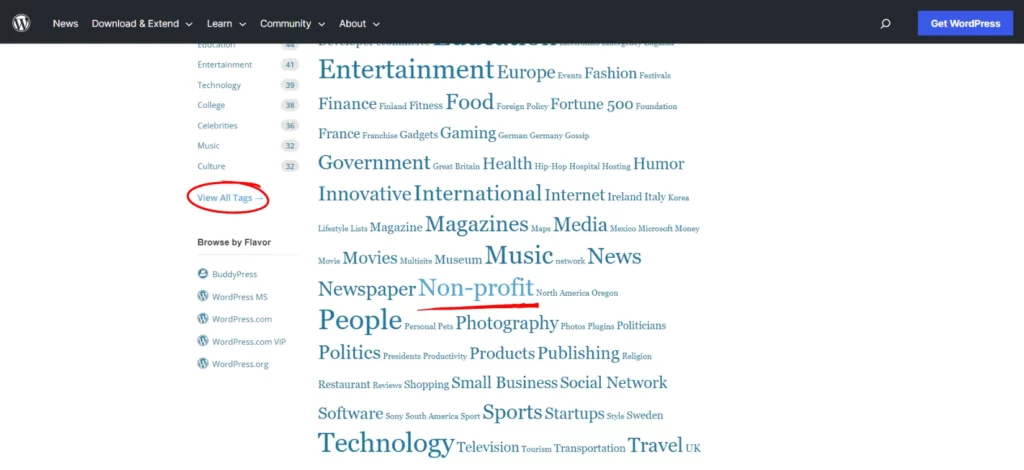 Best Practices for Building a Non-Profit Website
To create a powerful online presence and effectively engage with your intended audience, here are some best-practices to keep in mind:
Clear Message – Make sure the message on your website is clear and concise, effectively conveying your organization's mission, goals, and the impact it has on the community.
User-Centric Design – Ensure all the elements are user-friendly. Keep the navigation simple. Include clear menus, buttons, easy-to-read fonts, suitable colors, and responsive layouts that work well on various mediums. What works are landing pages that captivate and pique the user's interest! Read 'Creating a High Converting Landing Page' for insights.
Visual Appeal – Utilize visually appealing elements to grab visitors' attention and tell the story of your non-profit. Include impactful images, videos, and infographics that highlight your organization's activities, the people it serves, and the accomplishments it has achieved.
Clear Donation Forms – Donations are often a critical source of funding – so make it easy for visitors to donate by prominently displaying secure donation options. Highlight the impact of donations to motivate potential donors.
Success Stories – Highlight success stories and testimonials to showcase the positive impact of your non-profit. Incorporate real-life stories to demonstrate the value of your organization's work and inspire visitors to get involved.
Volunteer and Engagement Opportunities – Provide detailed and prominent information about how individuals can contribute their time, skills, or resources. Include volunteer registration forms, event calendars, and ways to get involved in specific projects. Encourage visitors to share their stories and experiences, fostering a sense of community and belonging.
Regular Updates and Maintenance – Keep your website up to date by regularly updating content, images, and news. Ensure that all information is accurate and relevant. Regularly test your website for functionality and usability, fixing any issues promptly.
Optimizing your Non-Profit Website for Search Engines
Keyword Research and On-Page Optimization – Perform thorough keyword research to identify the relevant terms and phrases your target audience is likely to use when searching for Non-Profits similar to yours. Incorporate these keywords into your website's content, headings, meta tags, and URLs; make sure you do so in a way that feels natural and not forced. For better results, optimize each page of your Non-Profit website individually.
Mobile-Friendly Design – As mobile usage continues to grow, search engines prioritize mobile-friendly websites in their rankings. To ensure that your website adapts and functions well across various platforms, optimize your non-profit website for mobile devices by using responsive design.
Website Analysis and Speed Optimization – Website loading speed is a crucial factor in both user experience and search engine rankings. Optimize your website's loading time and make necessary improvements to enhance performance by regularly monitoring and analyzing its speed. Analyze important metrics using tools like Google Analytics and gain insights into your visitors' behavior and use this data to make informed decisions and optimize your Non-Profit website further.
Relevant and Engaging Content – Relevant and engaging content is essential for your website's SEO success. Regularly publish high-quality articles, blog posts, and news updates related to your Non-Profit's mission and activities that can be shared and linked to by others.
Link Building – Build a strong backlink profile for your non-profit website by acquiring high-quality links from reputable sources. Seek opportunities for guest blogging, partnerships, and collaborations with other organizations or influencers in your industry.
By implementing these SEO strategies, you can increase the visibility, organic traffic, and overall success of your non-profit website. To know more about creating a contemporary website, read – 'How to Build a Modern-Day High-End WordPress Website'.
Overview
That certainly was quite a ride, wasn't it? Did it expand your knowledge about Non-Profits and their websites? Through this article I hope you were successful in creating a great website for your own Non-Profit or that you benefited from it in some way.
Before I go, here's something that will tickle your think-buds; Areva Martin in a Ted Talk said – why does everyone call NPOs as 'Non-Profits' when "We all profit"? When you let that sink in, you realize that yes, there is Profit in Non-Profits. So then, just why do we still call them Non-Profits?
I'll let that thought marinate for now.
And that wraps it up for the day folks!
FAQ's
Is WordPress good to create a Non-Profit Website?
WordPress is a good choice to create a non-profit website due to it being economical, user-friendly, customizable, scalable, and comes with abundant resources and support.
Which Domain is used for Non-profit Organizations?
The '.org' domain is predominantly used by non-profit organizations. The name is abbreviated from the word organization.
What are the Privacy Policy requirements for Non-Profits?
As a Non-Profit, your Privacy Policy can include these categories of information –
1. List the type of data you collect from the viewer 
2. Describe how the collected data will be used or shared 
3. Disclose any use of Cookies or similar technologies and how they will be used
4. The date on which the privacy policy was last updated and providing policy updates
5. Security measures implemented to protect viewer privacy
6. Give the users an option to refuse the storage of their data.
How to Fundraise on Your WordPress Nonprofit Site?
Fundraising on your Non-Profit Website can be achieved via plugins. You can browse through WordPress's extensive plugin library to find one that suits your needs. You can try out some of these – WP Charitable, Give WP or WP Crowdfunding.