We live in a digital age where having a website has become a necessity for businesses. Why? because websites act as a gateway to communicate with current and potential customers, hence the need to grow traffic on them. This communication is only possible when people visit your website. This provides more opportunity to market your product or services and also the need to increase traffic on your WordPress website.
These opportunities can be created by following a few marketing strategies and user experience improvements. And, I have jotted them for you in this article. Let's get started,
Search Engine Optimization🔍
SEO is the process of optimizing your website or contents of your website, so it can rank well in search engines like Google and Bing. If your site ranks well, there are more chances that people will click, more viewers means more opportunity to communicate with customers.
SEO is an important factor that you should keep in mind even if you are getting started with building your website. Building a strong foundation in SEO for your website is very important for future traffic.
WordPress has a large library of themes and plugins that are SEO friendly and does most of the technical part. But there are a few other things you could focus on which could help in obtaining a good ranking for your WordPress website and increase its traffic.
Selecting the most appropriate keywords related to your website
Choosing the right meta description and meta title for you articles
Choosing the keywords that have less search volume and more engagement. These can also be called as Long-tail keywords, these are mostly longer and more specific. Using long-tail keywords can be a great strategy for newly built WordPress site
Internal linking helps to drive traffic to different pages of your site, while keeping the visitors on your site stay longer
Implementing Schema markup, which makes it easier for the search engine crawlers to learn and rank your page
Improving the readability of your content. If you want your readers to go through your full blog or article, you should curate your content in such a way that it is easily consumable for your audience
Finding and fixing broken links in your website
Be Fast or Be Last🚀
Ever found yourself waiting more than twenty seconds for a web page to load? No, right? NOOOO, RIGHT??? 😂
Me, either. Website speed has a significant impact on user experience, business goals, and search ranking. 47 percent of ecommerce website visitors expect a page to load in less than two seconds. You can optimize your WordPress site to load within a couple of seconds by selecting the right page structure, optimizing images, and choosing well-coded third-party plugins.
Fast websites make it easier for visitors to navigate through your website and find what they are looking for. Improving site speed improves conversion rate and user retention. Website speed affects the SEO ranking for desktops, Google mentioned this almost a decade ago (2010). In 2018, Google announced that speed will be a ranking factor for mobile pages too. 
There are a number of tools which can help you measure the performance of the website, like GTmetrix, Pingdom Tools, and Google Page Speed Analytics. These tools also provide diagnostics and suggestions, which are of great help to improve the performance of the site.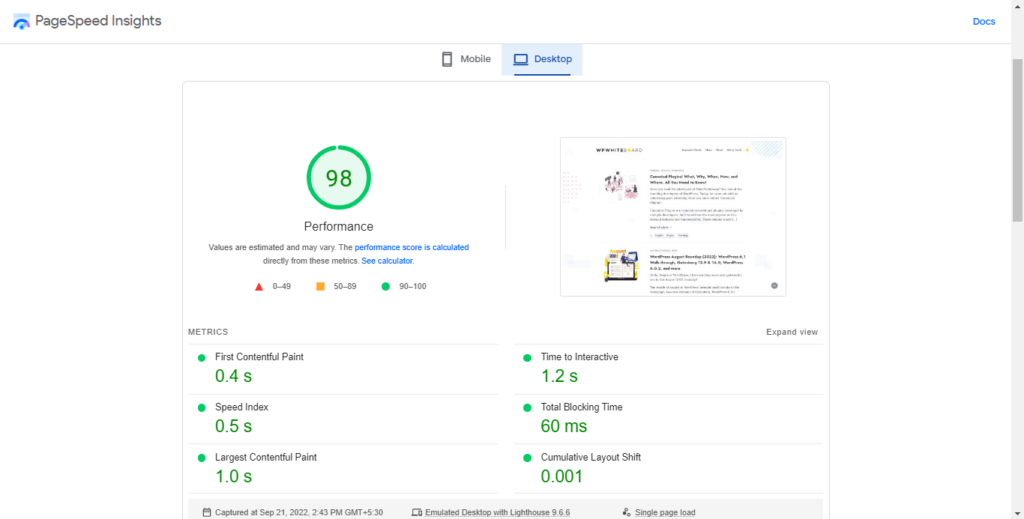 Breadcrumbs Navigation 🍞
Breadcrumb navigation is something you can integrate on your website to provide great user experience to your visitors. It can help the visitors to keep track of their location on a website.
Even if your users reach a page they don't want to be on, they can easily find their way back or go back a step or two and start over. This feature greatly helps user retention, decreasing the exit rate. You can use breadcrumbs as an additional tool to help search engines understand the content of your pages and gain a small additional SEO boost.
There are four popular methods to add breadcrumbs to your website. They are
Adding the Breadcrumb Navigation code manually
Adding a small code snippet to Yoast SEO
Enabling Breadcrumbs with a WordPress Breadcrumb Plugin
Using a theme that comes with breadcrumbs
WordPress breadcrumbs can make it easier for the user to navigate through your website, while helping the search engine crawlers to understand the structure and index of your site.
Fun fact: The term "Breadcrumb Navigation" 🍞 is borrowed from the tale of Hansel and Gretel where the kids drop a trail of breadcrumbs to trace their way back.
Social Media Marketing
In the World of Eat, Sleep, Social Media, Repeat, there is a big business opportunity in social media marketing. Social media a.k.a online networks allows users to interact, share, and exchange information.
Millions of people connect and share via social media every minute. So, why not use this wonderful opportunity for business as well? This can be a great tool to build loyal and recurring fans for your WordPress website. You can start posting regularly on social media sites and drive new traffic to your website. This also helps as a reminder to stay in top-of-mind.
Growing followers on social media won't happen overnight. You should know which different networks your customers are using the most. This will help you decide whether you need a Facebook page, a Youtube channel, a Pinterest account, a Twitter handle, a Google+ page, a Linkedin company page or a combination of all these things.
Just don't restrict yourself to the above mentioned online networking platforms, you'll also find niche or industry specific ones. These platforms cater to specific topics or specific audiences who really know their stuff and are looking for more detailed content. For example, sites like Opentable for restaurant space, GlassDoor for the corporate sector, TripAdvisor for travel reviews, etc.
There are numerous platforms dedicated to various industries, making small efforts to find the most appropriate platform can have a significant impact on driving more traffic to your WordPress site.
Fun Fact and Crazy Stat:
On average, internet users spend 2 hours and 29 minutes on social networks worldwide. Generation Z spends an average of 4 hours and 30 minutes on social media.
The average person's thumb travels equivalent to 2 marathons per year i.e., 2,76,870 feet of scrolling.
So isn't it a great opportunity to increase traffic to your newly built WordPress website? Just by placing small, small social media posts in between the so-called "Thumb marathon".
Guest Blogging
Guest blogging is one of the interesting aspects to increase traffic to a WordPress website. Few people would say it's a waste of time and resources, while others would say that it's an essential part of marketing strategy. What could be the answer to this ongoing debate? Let's find out
What is guest blogging?
Guest blogging, also referred to as guest posting, is where you invite someone from outside your organization to write a blog post for your website. The writer is basically someone who works in the same industry or an expert on the specific subject.
Guest blogging is a win-win situation both for the guest writer and as well as the host of the website.
It provides the following advantages for guest writers:
A great networking opportunity
It increases the reach
It helps in building a fan base
Backlinks to their personal website or blogs
Money
Advantages for the host of the website:
It helps in driving traffic and new audience to your website
It provides fresh content to existing users
An experienced person would include good keywords and backlinks, which can be a great help in boosting your SEO and search engine ranking.
So are you still waiting for my take on guest blogging? I'd say that guest blogging is a great method to increase traffic to your newly built website, when executed in the right way.
Email Marketing 📧
Email marketing is a great technique to increase traffic to your WordPress website without breaking the bank🏦. This is a great way to keep visitors coming back to your page regularly.
The most important step in email marketing is understanding your audience. This helps you to customize the communication based on their particular interest. You can also segment your emails according to other factors like age and gender.
There are many email marketing services like Mautic, Constant Contact, Sendinblue, Hubspot, etc. that allow you to track a lot of things like "open rates" which helps you decide which subject lines are most compelling to your customers, and "click through rate" which helps in tracking which content is driving traffic to your website.
Also, have you ever heard of the term Bounce Rate? Bounce rate is the number of emails that were not delivered to your subscribers. There are two kinds of bounces: Soft Bounces and Hard bounces.
Soft bounce is when your email gets rejected due to full inbox or limited storage on your subscriber's email server. Hard bounce is when your emails are blocked or the address you are using is incorrect. Analyzing these metrics helps you to remove email addresses that are getting hard bounced, this helps you save you a lot of effort and money for your next campaign.
Some important points to remember before starting Email Marketing
Add a strong and catchy subject line
Share your social media channels
Optimized emails for other devices like mobile phone and tablets
Choose the right email automation platform
Segment your audience according to their preferences
Avoid spam trigger words in subject
Always add an option that lets your users easily unsubscribe from your emails. It is not only good customer service but also required by law in many countries
Try to send personalized subject lines

Example: "Your WordPress September 2022 Roundup is here!" is always going to sound better than "WordPress September 2022 Roundup"
Search Engine Marketing (SEM) and Display Ads
SEM and display ads can be great strategies, if you are willing to spend a little money on advertising. SEM is the advertisement you see on the search engine results page above the organic search results. Display ads are the banner advertisements you see on different websites when you are reading a blog, shopping, or watching a video.
Search engine marketing (SEM) is the process of targeting and placing bids on specific keywords. SEM is mostly used for targeting sales. This is used for people who are at the bottom of the sales funnel. Display ads are used to advertise an existing or new product. This is used for people who are at the awareness stage of the sales funnel.
But remember, SEM and Display Ads only help in making your potential clients land on a certain page. The landing page should be compelling enough that the user stays, completes your CTA, and visits back again.
Make sure you plan a strong strategy, since SEM and Display Ads involve a lot of money.
Parting Notes 👋 – Longevity
NGL (Not Gonna Lie), to increase traffic to your newly built WordPress website is quite challenging and not an overnight process. If getting traffic to your WordPress site was an overnight process, every other website you see on the internet would have an enormous amount of traffic. If things were not challenging enough, would you feel the same amount of dopamine rush when you first saw a small hike in your website traffic? I don't think so.
So, Honing the above methods, creating new strategies, and improving them accordingly with time is the way to increase traffic. I hope you will be back after a few months of daily grind to read about "Tips to manage High Traffic WordPress Website"👀. See ya, Bye!