A WordPress website's theme is one of the things that make them stand out from the others, hence the importance to choose the 'One'. What does a theme do? It determines the look and feel of your website and how your content is presented to the user. Picking a theme may seem easy but choosing the most suitable option requires an intricate thought process.
In this article, I will guide you through the essential factors to take into account before making this decision. Together, let's choose the ideal theme for your WordPress website!
The Influence of WordPress Themes : Choosing the One
It is important to choose the right theme for your WordPress website. Why, you ask? Well, A theme isn't just a color scheme, it's a lot more than that; it is the visual identity of your website.
From typography, layout, style, and overall appearance, it plays a significant role in establishing the essence of your website. Furthermore, it directly influences the user interface, ultimately shaping how visitors perceive and interact with your site.
Given its impact on user experience, to choose a theme in WordPress, it requires thoughtful consideration.
Here's How to Choose the Best WordPress Theme
The significant task of choosing the right theme can be made easy with this checklist! Here's what you should look into to choose the perfect theme for your WordPress blog –
Readability and Visual Appeal
What's the purpose of including data on your website if users can't effectively read it? Incorporate typography that not only captures your user's attention but also ensures readability.
By carefully considering typography, you can enhance the accessibility and overall effectiveness of your content.
Look at the bigger picture – give importance to the overall design and aesthetics of your theme. Make sure they align with your brand identity and convey the right message all whilst providing a good user experience.
Things to carefully review –
Typography – Here's a good read: 'What makes a good, accessible, easy to read font?' to help you decide upon which font is best for your website and find a theme accordingly.
Color schemes – Unable to decide on the perfect palette? 'How to choose an Eye-Catching Website Color Palette' will help you out.
Use of Imagery – To know more about the best way of incorporating images, read – 'How to use Images Effectively in Websites'.
Choose a WordPress Theme Having Just the Right Amount of Elements
A clutter-free user experience is essential for a successful website. Make sure any element the theme includes serves a purpose. The design should facilitate easy navigation, allowing users to quickly find the information they seek.
It's important to strike a balance between aesthetics and functionality, as a needlessly flamboyant website may hinder the user's ability to locate relevant content. Here are '10 Principles of Good Website Design' to further guide you.
Device-Agnostic Design
Choose a responsive WordPress theme that seamlessly adapts to different devices and screen sizes, at it is a merit and it improves accessibility and allows you to cater to a wider audience.
Embracing responsive design enables your website to provide a device-agnostic experience, allowing users to engage with your content seamlessly, regardless of the device they use.
Browse through the 'Best Responsive WordPress Themes for 2023'.
Choose a WordPress Theme that Receives Regular Updates
Selecting a theme that receives regular updates is beneficial in the long run. An up-to-date theme lets you access the latest security protections and take advantage of additional features and functionalities.
Stay current and provide your users with a reliable website by choosing a relevant theme. Keep an eye out for the 'last updated' date while browsing themes.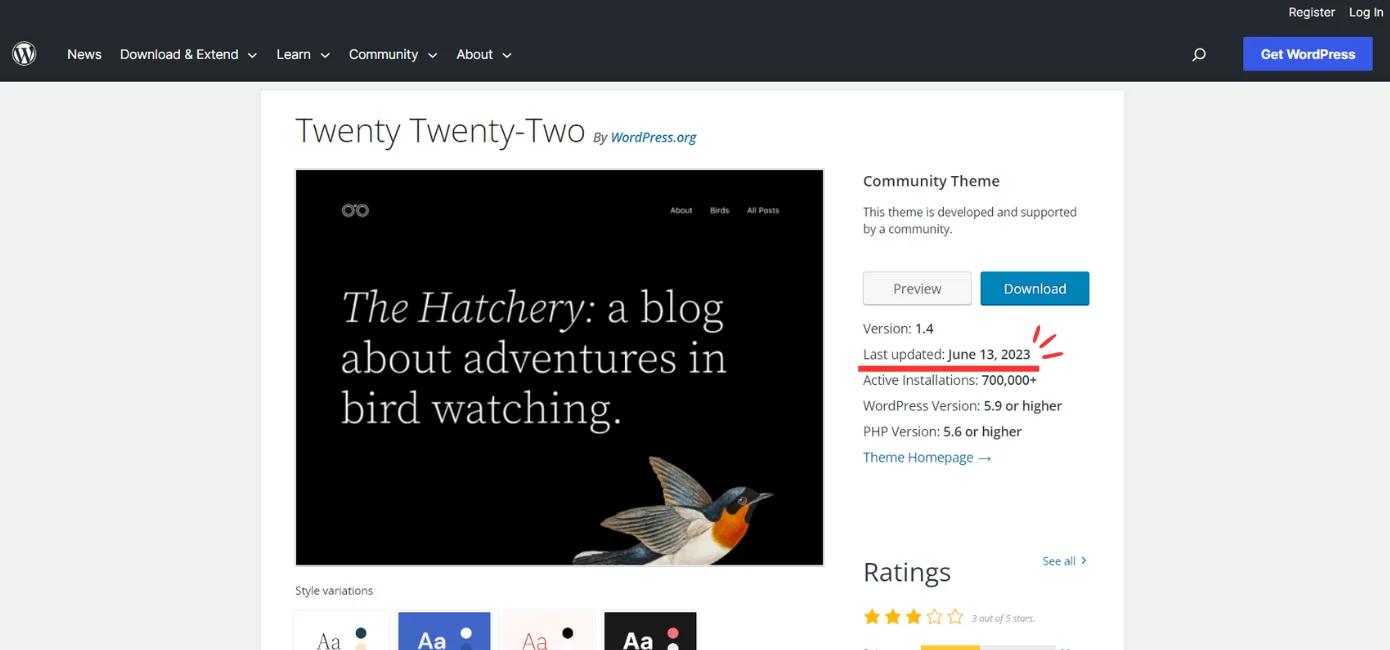 Customizations and Compatibility
Finding the ideal theme that perfectly aligns with your needs from the start seldom happens. And so, it is essential to choose a WordPress theme that offers customization options, allowing you to adapt it according to your specific requirements in the future.
Look for themes that offer flexibility and allow you to make design and layout changes easily. By opting for a customizable theme, you can ensure that your website remains dynamic and can evolve alongside your organization's growth and changing needs.
Also ensure that the theme is compatible with the latest version of WordPress and that it supports the plugins you plan to use on your website.
Choose a WordPress Themes that Reflects Purpose
More than anything, your theme should reflect the purpose and objective of your website. How would it feel if a toy store; something that's supposed to be exciting; had a very plain and formal no-nonsense theme? You wouldn't be drawn in and would go looking for a better, more fun website.
Therefore, while you choose, consider the specific features, functionality, and design elements your WordPress theme needs to fulfill the objectives of your website.
Ratings and Reviews
The reviews and experiences of other users can prove to be very insightful to help you make a decision. Perusing through reviews will give you valuable information about the theme's quality, ease of use, and overall satisfaction.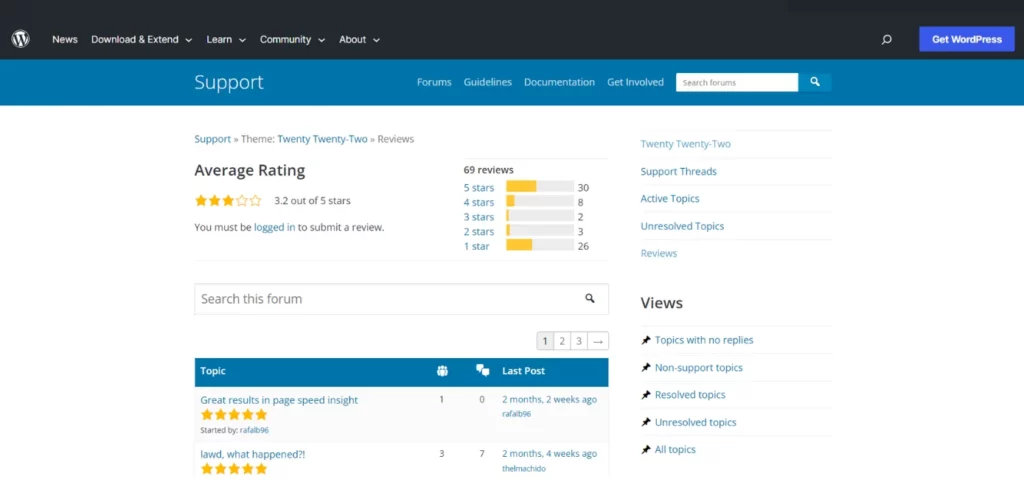 Speed and Performance
You need a theme that is optimized for speed and performance. Slow-loading websites can result in a poor user experience and affect search engine rankings. Before you choose a WordPress theme, test its demo site using speed testing tools to thoroughly assess its performance.
Choose a WordPress Theme with Dedicated Support
Themes with dedicated support forums, detailed documentation, and engaged customer service allow you to quickly troubleshoot any problems that arise. Resources like tutorials, videos, and knowledge bases allow you to properly use all features.
By considering these factors before you choose a WordPress theme, you can make an informed decision that aligns with your website's needs, goals, and user experience requirements.
Finding the 'One'
Where do you find the 'One' you ask? There are many places where you can find the perfect theme to choose, directly from WordPress. There are different types of WordPress themes – Free, Premium, Responsive, Multipurpose, etc. The best type depends on your needs and skill level. Carefully review features before choosing the best theme for your website.
These are some of the repositories you can browse – WordPress Theme Library, Theme Forest, Envato Elements, Themeisle, OceanWP and Astra.
Once you're done choosing, it's time to add your theme to your website! Go to 'Appearance'>'Themes' on the WordPress admin panel. Click on 'Add New' to add your theme.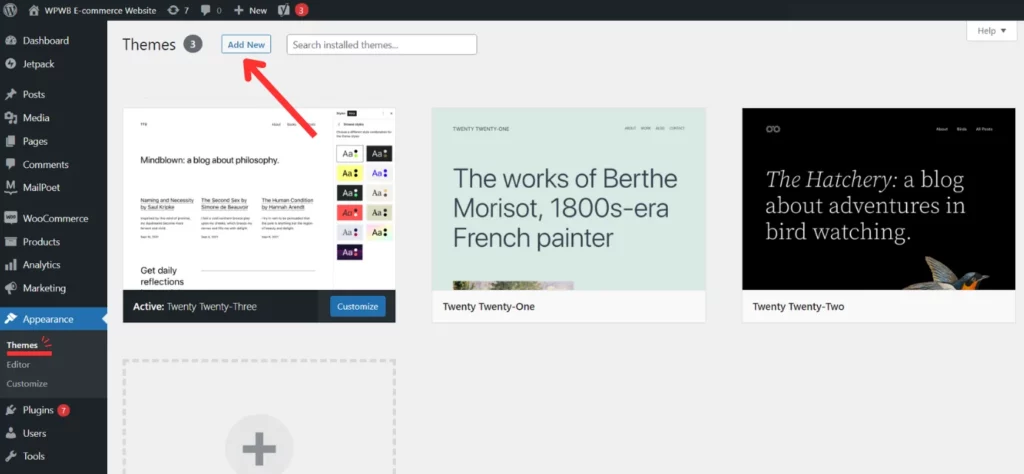 If you have chosen a WordPress theme from an external source, select the option 'Upload Theme' and choose a .zip file.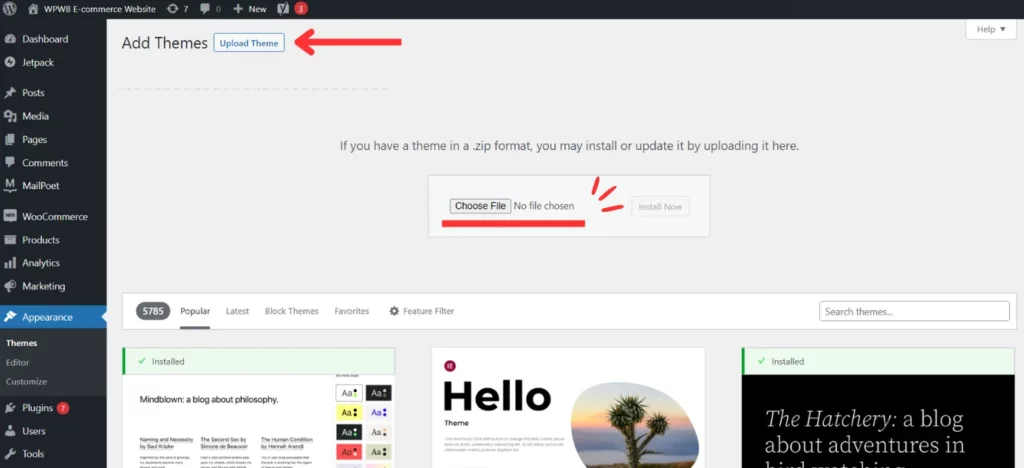 Choose Your WordPress Theme Identity
Selecting the perfect WordPress theme for your website requires thoughtful consideration. This article highlights the essential factors to contemplate before you make your decision. With this guide, you'll be equipped to make an informed choice and create a visually appealing, functional, and successful website!
Get ready to embark on a theme-tastic adventure and create a website that stands out from the crowd!
Have you found the perfect theme but don't know how to replace the old with the new? Read 'How to change your WordPress Theme' to attain the theme of your dreams!
Don't miss out on more such 'How to' WordPress guides and subscribe to WPWhiteBoard!
Q&As
Which WordPress theme is best for beginners?
As a WordPress beginner, look for a theme that is easy to use and navigate, responsive, customizable and well-supported. Surf through the various repositories that offer WordPress compatible themes and find the one that best suits your website needs.
What are the top five most popular WordPress themes?
According to user ratings, the top five most popular WordPress themes are: Astra, OceanWP, GeneratePress, Hestia and Neve. There are many WordPress compatible themes available, find the one that works best for you!
Which WordPress theme is best for SEO?
Ratings and reviews show that Astra, Divi, GeneratePress, Genesis, OceanWP are some of the best WordPress themes for SEO.